We're living in an era of political division and the past seven years have produced high-level clashes in the form of defamation lawsuits. First Amendment Watch has compiled recent coverage that provides context about some of the bigger cases within defamation law. The topics explored:
The explosion of disinformation (Alex Jones); false election claims (Dominion Voting Systems and Smartmatic); political retribution (Devin Nunes) and lawsuits filed on behalf of, as well as against, a sitting U.S. president (Donald Trump).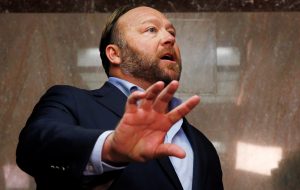 Teacher Guide
Do First Amendment Defenses Save Conspiracy Theorist Alex Jones from the Sandy Hook Lawsuits?
Political Defamation Lawsuits | Alex Jones | Devin Nunes | Trump Suing for Defamation | Trump Sued for Defamation | Defamation: E. Jean Carroll v. Trump | Election Fraud