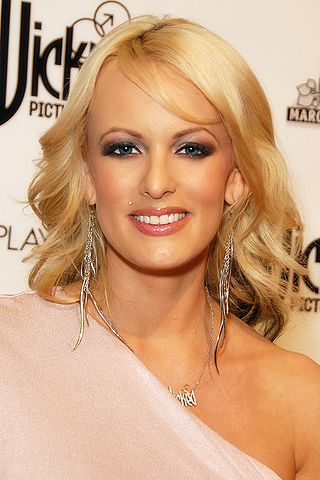 October 15, 2018: The Judge Also Ordered Daniels To Pay Trump's Legal Fees
A federal judge in California dismissed a defamation lawsuit filed by Stormy Daniels against President Trump, ruling that the President did not defame her in a tweet he posted in April 2018. The tweet included a an image of a sketch of a man Daniels claimed threatened her in 2011 when she considered publicizing her alleged affair with Mr. Trump.  President Trump retweeted the image, calling it a "con job" and suggesting that the ordeal was fabricated by Daniels.
The court sided with President Trump who argued that the tweet was "rhetorical hyperbole" often found in political discourse, and is protected under the First Amendment. U.S. District Judge S. James Otero of Los Angeles also order Daniels to pay Trump's legal fees associated with the case
A sketch years later about a nonexistent man. A total con job, playing the Fake News Media for Fools (but they know it)! https://t.co/9Is7mHBFda

— Donald J. Trump (@realDonaldTrump) April 18, 2018
Decision
April 30, 2018: First Summer Zervos, Now Stormy Daniels Charge President With Defamation
Stephanie Clifford, a.k.a. Stormy Daniels, brought suit against President Trump in federal court in New York for "falsely attacking" her statement about a threatening incident that occurred in 2011 related to "her intention to tell the story of her relationship with Mr. Trump." In a tweet the President called Clifford's accusations a "total con job."
The complaint goes on to state Trump's statement "also operates to accuse Ms. Clifford of committing a crime under New York law, as well as the law of numerous other states, in that it effectively states that Ms. Clifford falsely accused an individual of committing a crime against her when no such crime occurred. Mr. Trump's statement is false and defamatory. In making the statement, Mr. Trump used his national and international audience of millions of people to make a false factual statement to denigrate and attack Ms. Clifford."
Clifford is seeking a jury trial and unspecified damages. This follows another lawsuit brought in California by Clifford to be released from a non-disclosure agreement she agreed to days before the 2016 election in exchange for $130,000 to keep her alleged 2006 affair with Trump under wraps.
NBC
CNN
Complaint