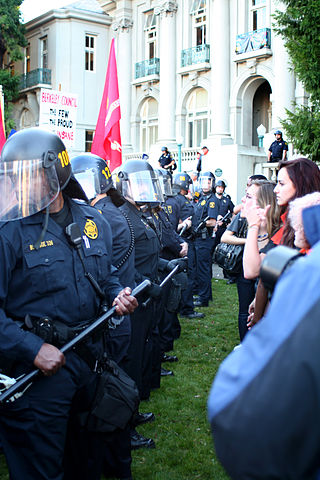 U.S. campuses have been hotbeds of political and social debate since the colonial era. By the 1960s, rising civil unrest bouyed the Free Speech Movement at the University of California, Berkeley. As protests spread, universities and law enforcement cracked down leading to fatalities in separate incidents at Kent State University and Jackson State University. Today campus protests are once again eliciting an escalated police presence. Both public and private universities are struggling how to balance the free exchange of ideas, but public universities have a legal obligation to protect campus freedom of expression. What does this mean for students, campus free speech and speaker's right to free speech when it is suppressed by the fear of disruption? For news, analysis, history and legal background read on. 

 
---
News & Updates
August 3, 2018: Data Suggests Campus Free Speech Crisis Is Over-exaggerated
Data analysis from Georgetown's Free Speech Project suggests that a free speech crisis on college campuses is not as dire as many claim.  The project found roughly 90 incidents since 2016 in which a person's free speech rights were threatened according to their criteria, of which two-thirds of the cases took place on college campuses. They also found that most of the incidents involving speakers on campus involved a handful of the same individuals, and found instances in which left-wing speech was shut down as well.
Vox>
Sanford Unger directs the Knight Foundation-funded Free Speech Project at Georgetown and writes on findings of the recently released report on the state of free speech on college campuses.
Medium>
June 24, 2018: University of West Florida Updates Its Speech Policy After Governor Signs Law
The University of West Florida has eliminated its "free speech zones," which were specific areas on campus where free speech was confined to. Students at the public university will now be able to exercise their right to free speech throughout campus with some time, place, and manner restrictions.
June 12, 2018: Campus Free Speech Legislation Signed By Louisiana Governor To Protect Controversial Speakers
A new law aimed at protecting controversial speakers visiting Louisiana colleges was signed by Governor John Bel Edwards and has taken immediate effect.
Under Senate Bill 364, now Act 666, colleges and universities will be required to spell out speech policies and advertise them in student handbooks and on websites.  In conjunction with the Board of Regents, schools must develop policies that say that students and faculty may discuss any topic and assemble as long as it is legal and non-disruptive of school functions. Additionally, schools must indicate that they will strive to ensure the fullest degree of intellectual freedom and free expression and that it is not the role of the institution to shield individuals form protected speech under the First Amendment.
Associated Press> The Advocate> Act 666>
June 11, 2018: Feds File "Statement Of Interest" In Case Arguing UM's Speech Codes Are Unconstitutional 
The Department of Justice filed a "Statement of Interest" in a case between D.C.-based civil rights liberties group Speech First and University of Michigan's President Mark Schlissel over the school's speech code and anti-bullying policy.
On the same day, UM announced that it revised its policy.
Speech First alleges that the university's policy is too broad and violates the First Amendment because it may cause students to censor their speech. The DOJ's Statement of Interest argues that UM's code of conduct is unconstitutional and "chills" protected speech.
"In recent years, many institutions of higher education have failed to uphold these freedoms, and free speech has come under attack on campuses across the country," the Statement of Interest read. "Such failure is of grave concern because freedom of expression is 'vital' on campuses."
Acting Associate Attorney General Jesse Pannuccio said in a statement:
"Freedom of speech and expression on the American campus are under attack. This Justice Department, under the leadership of Attorney General Jeff Sessions, is committed to promoting and defending Americans' first freedom at public universities."
A university spokesperson says that the lawsuit paints a "false portrait of speech" on campus by misstating UM's policy.  The spokesperson said that the Bias Response Team, which the DOJ claimed were bestowed with disciplinary power, do not in fact have that authority. Rather, the team supports students on a voluntary basis.
The DOJ notes that this case is the fourth Statement of Interest filed in a First Amendment case under Attorney General Jeff Sessions.
This isn't the first time University of Michigan has been challenged over their speech code. A court ruled against UM in 1989 over the adoption of a speech code. A student filed a suit against the university because he alleged that the speech code, amended to the school's policy as a response to hate speech, prevented him from having conversations about race and gender. The district court ruled in favor of the student and against UM on the grounds that the policy was vague and too broad.
Detroit Free Press The Detroit News Chronicle of Higher Education Inside Higher Ed
U.S. Department of Justice Press Release
U.S. Government's Statement of Interest
University of Michigan Policy Revision
Doe v. University of Michigan
May 14, 2018: A twenty-minute on campus protest at U. of Nebraska-Lincoln resulted in a drawn-out discord between powerful state institutions
In a collaborative reporting project, This American Life and The Chronicle of Higher Education followed a schism between lawmakers and a public university over what kinds of free speech should be tolerated on campus. A graduate student and member of the school's English department confronted a student tabling for a conservative campus group and handing out political paraphernalia by calling her names and giving her the finger.  The brawl, caught on video and widely publicized, resulted in the graduate student being removed from her teaching duties and Nebraska lawmakers turning critical of the school's political climate. State legislators introduced a free-speech bill, while the university announced a new policy that made the motto "Nebraska Nice" a condition for free speech on its campuses. Chronicle of Higher Education reporter Steve Kolwich writes, "it was less about free speech than how to use free speech to get what you want."
Associated Press>
The Chronicle of Higher Education>
This American Life>
March 12, 2018: Can a New Generation Redefine the Meaning of the First Amendment?
Gallup, the Knight Foundation, the American Council on Education, Charles Koch Institute and the Stanton Foundation worked together to update a 2016 landmark survey of college students and their thoughts on their First Amendment freedoms. Topics included: "whether college students ever consider violence or shouting down speakers acceptable, whether they believe certain groups of students can freely express their views on campus and whether social media has displaced public areas of campus as the venue for discussing political and social issues." The results show shifting attitudes to freedoms protected by the First Amendment.
Washington Post>
Medium>
Knight Foundation Report>
Gallup Poll>
March 8, 2018: Ballard Spahr Discusses Freedom of Expression in Higher Ed
Ballard Spahr outlines what it sees as the critical issues in campus speech today.
Ballard Spahr>
January 25, 2018: Update on Free Speech Lawsuit Against Berkeley
The Justice Department filed a statement of interest in support of two conservative groups suing Berkeley on First Amendment grounds, stating that their rights were violated when conservative speakers appearances were cancelled. According to a Justice Department spokesperson the decision was based on the need "to protect against universities — the government really, if you're a public university — deciding which speech is favored, which ideas are too controversial to even allow to be heard on a college campus."
Washington Post>
January 21, 2018: Waiting for the Next Campus Speech Controversy
CBS News documents the current state of campus protests.

CBS News>
November 5, 2017: Virginia Tech Grapples With Meaning of Student Free Speech 
Graduate student Mark Daniel Neuhoff posted alleged racist comments on what he thought was a private forum. An undergraduate, Tori Coan, got wind of his statements and led a petition to fire him from his teaching assistant position. Coan and other student protesters even disrupted the "State of the University" speech delivered by Virginia Tech's president. Now the campus is divided over whose free speech and privacy was violated.
Washington Post>
October 19, 2017: Protests Erupt at Richard Spencer Speech at University of Florida
Taking a cue from clashes at other college campuses, including Berkeley, over controversial speakers, the Governor of Florida declared a state of emergency ahead of white nationalist Richard Spencer's speech at Gainesville. The Miami Herald gives a play by play of the day.
Miami Herald>
September 26, 2017: Attorney General Sessions Says Freedom of Speech Under Attack on College Campuses
At an invitation-only event at Georgetown University law school, Attorney General Jeff Sessions jumped into the debate over campus speech by stating that the First Amendment had suffered from "political correctness and homogeneous thought" and that "a national recommitment to free speech on campus" was needed. He challenged the audience to think about who decides what can be deemed offensive or acceptable stating,  "The university is about the search for truth, not the imposition of truth by a government censor." Protestors rallied outside with signs reading, "FREE SPEECH IS NOT HATE SPEECH."
New York Times>
Washington Post>
September 22, 2017: What Berkeley Student Say About Campus Free Speech
The New York Times excerpts students comments on free speech.
The New York Timest>
September 18, 2017: First Amendment on Shaky Ground on College Campuses
In a recent Brookings survey of current undergraduate students at U.S. four-year colleges and universities, researchers found that "Freedom of expression is deeply imperiled on U.S. campuses." Regarding the recent protests over controversial campus speakers, the survey indicated "a very significant fraction of students, across all categories, believe it is acceptable to silence (by shouting) a speaker they find offensive." This reflects back on a weak understanding of First Amendment protections. What is to be done? John Villasenor, Nonresident Senior Fellow of Governance Studies, Center for Technology Innovation at Brookings writes, "we can do a better job of giving [students] a fuller explanation of the scope of the First Amendment, and the fact that it protects the expression of offensive views."
Brookings>
Washington Post>
September 12, 2017:  Free Speech Week Expected to Test Berkeley
Last spring, Ann Coulter's speech at Berkeley was cancelled after concerns that protests would erupt into violence. She plans her return at Berkeley's "Free Speech" week along with Brietbart editor Steve Bannon and conservative provocateur Milo Yiannopoulos.
Newsweek>
September 10, 2017:  Pepper Spray and Free Speech
As a new semester gets under way at Berkeley, free speech debates and protests that boiled over earlier in the year are expected to continue. This time, ex-Breitbart editor, Ben Shapiro, is causing a stir and Berkeley police are asking to arm themselves with pepper spray to control crowds. "Berkeley has been the focus of an unprecedented effort to be made a battleground for extremist groups," wrote Police Chief Andrew Greenwood  in a memo to the City Council stating police need help to ensure First Amendment rights are protected. "The availability of pepper spray as a force option to use against specific violent offenders in a crowd situation would allow for more safety for officers and the public, and increase the likelihood of apprehension and criminal prosecution of suspects, while reducing the potential for injuries to suspects and officers."
NBC>
September 11, 2017:  UC Berkeley Faculty Dispute Protection of Hate Speech
As Berkeley prepares for more controversial speaker visit and further free speech challenges, faculty disagreed on limiting hate speech in a recent panel. "All ideas and views can be expressed on campus, no matter how offensive," said Erwin Chemerinsky, dean of the UC Berkeley School of Law and an expert on constitutional law. John Powell, director of the Haas Institute for a Fair and Inclusive Society, expressed an opposite viewpoint, "I don't think (free speech) is a defining issue in the country. I think the defining issue in the country is white supremacy."
The Daily Californian>
June 20, 2017: Free Speech on College Campuses in the Senate Spotlight
U.S. Senators questioned First Amendment lawyers, university administrators and college students at a Judiciary Committee hearing on campus speech in June. The Committee's Republican members expressed significant concerns about the cancellation of multiple provocative speakers at public universities across the country, with Chairman Chuck Grassley saying that free speech seems to have been "sacrificed at the altar of political correctness."

ABC News>
June 26, 2017: Wisconsin State Assembly Supports Campus Free Speech Act
The Wisconsin State Assembly sent to the State Senate last week the Campus Free Speech Act, legislation which would institute severe penalties — including suspension or explosion — for University of Wisconsin students who engage in "violent, abusive, indecent, profane, boisterous, obscene, unreasonably loud or other disorderly conduct that interferes with the free speech of others." In an interview on NPR's "All Things Considered," the bill's Republican sponsor said that his legislation was intended to provide "a basic framework that protects the constitutional rights of everyone on the campus." Governor Scott Walker is expected to sign the legislation once it is passed by the State Senate.
NHPR>
April 26, 2017: North Carolina Legislators Take Pro Speech Hardline on Campus
In April, the North Carolina House of Representatives passed H.B. 527, legislation which would mandate that public universities take disciplinary action against students "who disrupt events or interfere with others' free speech rights." The bill would also obligate the UNC Board of Governors to form a Committee on Free Expression, which would make recommendations on how state schools could remove barriers to free speech on their campuses.
News Observer>
April 26, 2017: Berkeley Offers, Coulter Rejects Alternative Dates for Cancelled Speech
The University of California at Berkeley offered alternative dates for an event featuring Ann Coulter, after canceling the initial event due to concerns about safety. Coulter rejected the alternative dates, after the conservative groups sponsoring the event pulled out. They blamed Berkeley for failing to provide adequate security.
NPR>
April 24, 2017: Conservatives Sue Berkeley Over Coulter Cancellation
After canceling a speech scheduled to be delivered by Ann Coulter, the University of California at Berkeley was sued by Berkeley College Republicans and Young America's Foundation. The plaintiffs accuse the University of violating the First Amendment rights of its conservative students, a minority group on campus, by discriminating against speakers with a conservative viewpoint. The University refuted the accusations made in the lawsuit, saying that they respected the right of people of differing viewpoints to speak on their campus.
Washington Post>
April 19, 2017: Citing Safety Concerns, Berkeley Cancels Ann Coulter Event
The University of California at Berkeley called off an event featuring Ann Coulter, a conservative commentator known for making controversial statements, in April. School officials cited safety concerns, saying in a letter to Berkeley College Republicans that it was "not possible" for the University "to assure that the event could be held successfully — or that the safety of Ms. Coulter, the event sponsors, audience and bystanders could be adequately protected."
New York Times>
April 11, 2017: Speech by Conservative Writer David Horowitz Canceled
Berkeley College Republicans cancelled a planned speech by David Horowitz, a conservative writer, and blamed the University's administration.
CBS Local>
February 2, 2017: In Response to Riots, Berkeley Cancels Milo Yiannopoulos Event
Administrators of the University of California at Berkeley cancelled a scheduled speech by Milo Yiannopoulos, then a Breitbart News editor, after riots in opposition to his event resulted in $100,000 worth of damage. In a statement, the University condemned the riots and said it regretted having to call off the event because it was "bound by the Constitution, the law, our values and the campus's Principles of Community to enable free expression across the full spectrum of opinion and perspective."
CNN>
History & Legal Cases
While private colleges and universities might promote free speech on their campus in the interest of academic freedom, they are not bound to follow the First Amendment like their public counterparts are. Public institutions of higher education, like the University of California at Berkeley, have a legal obligation to protect the freedom of expression on their campuses. In Healy v. James (1972), the Supreme Court held that "state colleges and universities are not enclaves immune from the sweep of the First Amendment" and "held that public institutions of higher education must not refuse recognition of student groups based on unsupported fear of disruption but instead bear a heavy burden to justify a "prior restraint," that is, a governmental content-based prohibition of expression, on account of First Amendment protection."
While public schools are not allowed to discriminate against potential campus speakers on the basis of viewpoint or ideology, they are able to impose uniform and reasonable time, place and manner restrictions. Prohibiting individuals from speaking because of their ideology, unless they are advocating immediate violence, is generally considered unconstitutional.
Healy v. James>
Hecklers' Veto
When controversial speakers like Ann Coulter or Milo Yiannopolis are invited to speak on college campuses, their invitations are often met with (sometimes violent) protests. A "hecklers' veto" is when these protests, because of fear of disruption or conflict, cause authorities to cancel the event featuring the controversial speaking. According to the First Amendment Center, this has the effect of suppressing the controversial speaker's free speech rights. The Supreme Court, however, has allowed the use of a "hecklers' veto" since its ruling in Feiner v. New York (1951). The Knight First Amendment Institute recently engaged leading thinkers to consider "From the Heckler's Veto to the Provocateur's Privilege."
Newseum Institute>
Feiner v. New York>
Knight First Amendment Institute>
Analysis & Opinion
July 2, 2018:  How To Interpret The First Amendment In The Age Of Social Media Trolls? 
The New Yorker reports on the re-examination of free speech on campus in an age of provocative social media personalities like Milo Yiannopoulos.
The New Yorker>
June 14, 2018:  Are Campus Free Speech Guidelines #Trending? 
The New York Times highlights a trend among some Republic-led state legislatures to impose policies and bills to establish campus free speech guidelines at public colleges and universities, as an anecdote to combat campus protests.
The New York Times>
April 27, 2017: No "Parameters" to Campus Free Speech
Responding to New York University's Ulrich Baer's New York Times op-ed, Conor Friedersdorf, writes that "Very few words clarify what speech is to be suppressed by what standards, or who is to decide if they are met, as if we needn't worry overmuch about limiting principles or the abuses that invariably follow when they are absent—even though marginalized groups typically bear the attendant burdens most heavily."
NHPR>
April 26, 2017: In Support Ann Coulter's Berkeley Speech
The Editorial Board of The Los Angeles Times said that the University of California at Berkeley has a "fundamental responsibility" to ensure "free expression and unfettered debate" on its campus and should provide Ann Coulter a secure place to speak. Though the editorial calls the lawsuit against Berkeley "unconvincing," it said that the University was unjustified in canceling the event featuring Coulter. Meanwhile The National Review David French said that the cancellation of Ann Coulter's speech proves that a "violent Left-wing mob dictates the rules at one of the nation's (and the world's) most prominent academic institutions." French accused University administrators of failing "to protect Americans' constitutional rights."
LA Times>
National Review>
April 24, 2017: Banning Speakers Is Not Censorhip, It Ensures Free Speech For Greater Group
Ulrich Baer writes that the free speech debate should be framed by "the way certain topics restrict speech as a public good." He continues that protests against controversial speakers should be seen "as an attempt to ensure the conditions of free speech for a greater group of people, rather than censorship."
New York Times>
April 20, 2017: Who Has the Right To Speak on Campus
Although public universities are considered public forums, universities do retain the ability to restrict when and where public speakers are able to speak — although these restrictions cannot be based on the content of their speech. Public universities do have "some latitude" to restrict speakers, but those restrictions must be reasonable and applied fairly.
USA Today>
February 2, 2017: Berkley Was Once "Birthplace" of Free Speech on Campus
In 1964, student activists at Berkeley launched a free speech movement that would spread nationwide by insisting that the University administration remove restrictions on campus expression. A half century later, the cancellation of an event featuring Milo Yiannopoulos has sparked a "battle" over free speech at the California college.
New York Times>
August 1, 2016: Campus Free Speech Watchdog FIRE Ramps Up Its Fight
As campus protests make news, FIRE's mission to promote academic freedom and freedom of expression on campus grows.
October 25, 2012: Is Campus Free Speech a Sham?
In an opinion piece in The New York Times, President of the Foundation for Individual Rights in Education (FIRE), Greg Lukianoff, says that campus free speech does not exist and cites examples of where students' voices have been consistently suppressed. "Colleges have promulgated speech codes that are not only absurd in their results but also detrimental to the ideals of free inquiry. Students can't learn how to navigate democracy and engage with their fellow citizens if they are forced to think twice before they speak their mind," he writes.
New York Times>