President Donald Trump is threatening legal action over CNN's coverage of him, accusing the network of "highly biased" reporting.
"Never in the history of this country has a President been the subject of such a sustained barrage of unfair, unfounded, unethical and unlawful attacks by so-called 'mainstream' news, as the current situation," wrote Trump attorney Charles Harder in a four-page letter to CNN's President and CEO Jeffrey Zucker.
Harder isn't threatening to sue for libel; he instead accuses the network of violating the Latham Act, which includes a provision against false advertising.
"Your actions are in violation of the Latham Act (15 U.S.C. § 1051et seq.), among other applicable laws, by constituting misrepresentations to the public, to your advertisers, and others," the letter said.
This latest salvo against CNN, which has been attacked by Trump in the past, appears to have been spurred by the release of videotapes recorded by a former CNN contractor showing its employees criticizing the network's political coverage.
"Your own employees appear to state that CNN is focused on trying to 'take down President Trump,' driven by a 'personal vendetta' that Mr. Zucker purportedly has against him, rather than reporting the news in an objective manner," wrote Harder.
"In the Footage, your employees appear to state that CNN attempts to make its reporting appear neutral and unbiased, when in fact its reporting is far from neutral and highly biased against the President."
The letter, and the threat of legal action, has been the subject of derision among some First Amendment lawyers. "CNN's decisions as to what to cover and how to do so are fully protected by the First Amendment and this effort to avoid those protections by characterizing the claim as something other than libel seems to me a self-evident non-starter," Floyd Abrams told Mediaite.  And Ted Boutrous, a First Amendment lawyer at Gibson Dunn, called the letter "absolutely ridiculous" and "frivolous" in a tweet.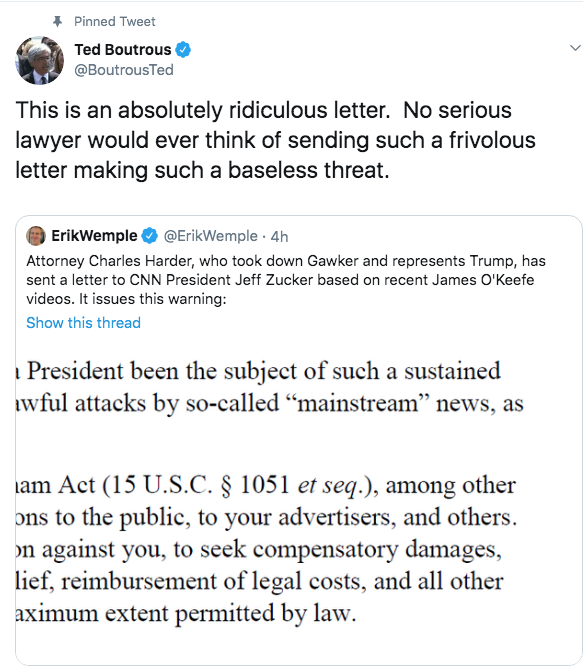 Mediaite The Hollywood Reporter Harder letter
---
Tags
---