President Donald Trump took to Twitter and urged his supporters to boycott CNN's parent company, AT&T.

Trump has been a vocal critic of the cable news network, frequently tweeting out that it traffics in "fake news," as he earlier that same day.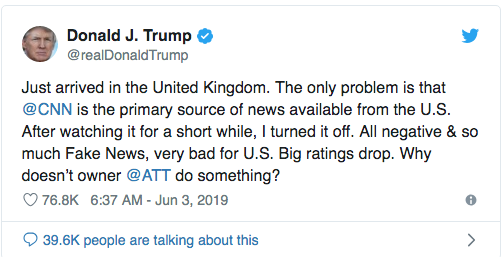 Last year, Trump opposed AT&T's $85 billion acquisition of Time Warner, which then owned CNN, and critics contended his stance was due his ongoing complaints of "unfair coverage" by the cable news giant. The Justice Department tried to block the merger, citing antitrust concerns, but in February, a federal appeals court upheld the merger.
While other presidents have complained about the coverage they've received in the press, Trump has taken it to the extreme.
"For a president to call for punitive action against a corporation in an effort to shape news coverage is, to say the least, highly unusual. It's the kind of behavior more commonly associated with authoritarian regimes, not democratic ones," historian Jon Meacham told The Washington Post.
The Washington Post The Verge CNBC
---
Tags
---