America was born in the protests of 1765 to 1776. Large crowds assembled around liberty trees and liberty poles, hanging British officials in effigy, and thousands of people paraded through the streets of colonial towns voicing loud dissent against British taxes and other measures they considered oppressive. Today's lawmakers seem much more squeamish about the right to assembly, which is now enshrined in the First Amendment. Reacting to the demonstrations that have taken place throughout the U.S. over the last few years, many states have moved to restrict public demonstrations by a variety of means. Some measures that are enacted into law will surely be tested in court as violations of the First Amendment.
---
News & Updates
May 18, 2018: Lata Nott: These Two States Are Pushing Laws To Criminalize Some Protests
Newseum Institute's First Amendment expert, Lata Nott, calls out legislators in Louisiana and Minnesota for proposing bills that "would criminalize the activities of groups protesting the construction of oil pipelines" and thereby negatively affect the First Amendment freedom of assembly. This is the latest in efforts by states to "place restrictions on when and how we exercise [freedom of assembly]…these proposed laws seem specifically designed to intimidate and dissuade people from protesting at all."
FAW>
February 15, 2018: National Lawyers Guild Tallies Anti-Protest Legislation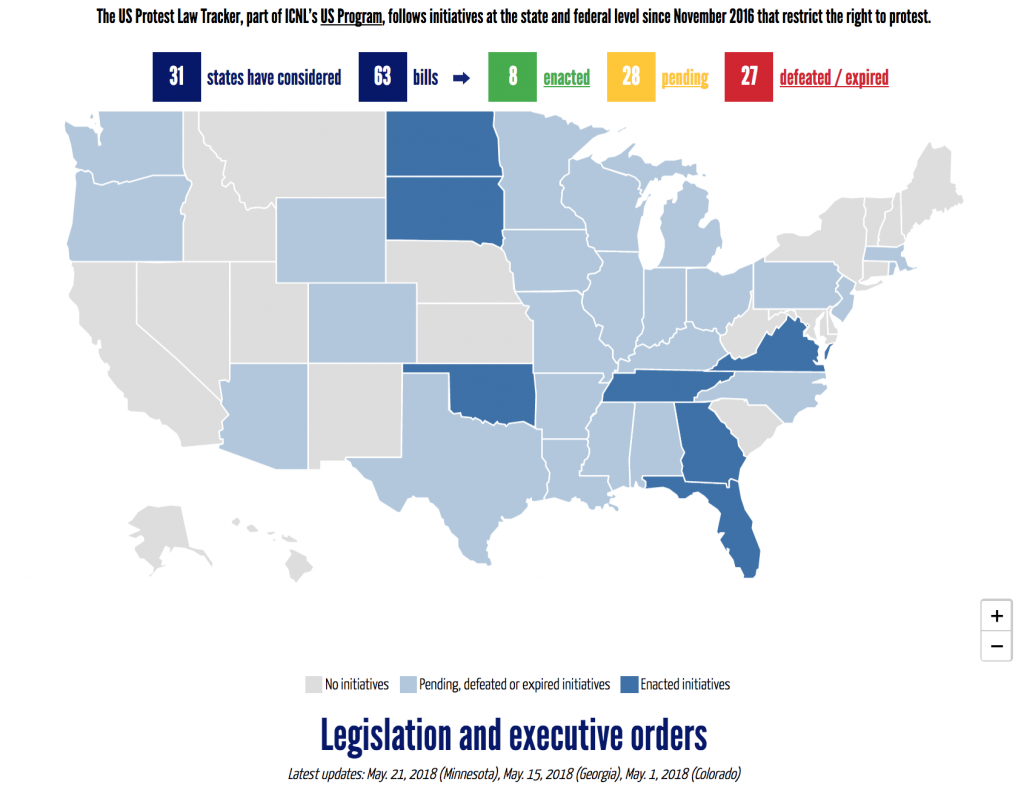 The NLG found in February that the number of anti-protest bills reached nearly 60 with 9 bill already introduced (or-reintroduced) in 2018 alone. Follow along with the US Protest Law Tracker, part of ICNL's US Program, which follows initiatives at the state and federal level that restrict the right to protest.
ICNL>
August 29, 2017: Six States Pass Laws Limiting Freedom of Assembly
Citing a new report by State Innovation Exchange describing state bills proposed in 2017, USA TODAY counts 20 states that considered new "anti-protestor" laws. Five of those states—Arkansas, Georgia, North Dakota, Oklahoma and South Dakota—enacted legislation that was criticized as having a chilling effect on demonstrations. Virginia passed a bill to criminalize anti-police protests, but Governor Terry McAuliffe vetoed it.
USAToday>
August 16, 2017: After Charlottesville, New Look at Bills to Protect Drivers Who Hit Protestors
Bills were introduced in five states this year to grant civil immunity to drivers who unintentionally hit protestors when demonstrators block the streets. However, legislators in Florida, North Carolina, Rhode Island, Tennessee and Texas denied that their proposals would in any way condone the driver in Charlottesville who killed a pedestrian with his car. Instead, policymakers continued to defend their bills as a deterrent to protestors taking to the streets without a permit.
March 30, 2017: U.N. Officials Warn Against "Alarming" Anti-Protest Bills
A statement by U.N. human rights experts said that anti-protesting bills in 19 states threaten "to jeopardize one of the United States' constitutional pillars: free speech." They urged states not to respond to some incidents of violence by stripping "other protestors of their right to freedom of peaceful assembly." The same experts criticized Russia for its response to peaceful street demonstrations.
February 28, 2017: "Revival" of Protests Triggered Anti-Protest Legislation
According to The Atlantic magazine, the introduction of anti-protest legislation in multiple state legislatures "comes amid a revival of disruptive protests," ranging from Black Lives Matter demonstrations to the Women's March on Washington.
Analysis & Opinion
March 2, 2017 – Trends Emerge in Bills to Criminalize Protest
Traci Yoder of the National Lawyers Guild takes a deep dive into the anti-protest legislation, grouping similar proposals to demonstrate specific trends such as "bills removing liability from drivers who 'accidentally' hit and kill protesters." She finds the bills create "an atmosphere of confusion and fear. … likely to have a chilling effect on dissent."
National Lawyer's Guild>
February 24, 2017: Anti-protesting Bills in 18 States a Reminder of Civil Rights Era
The Washington Post reports reasons put forth by state legislators both for and against the bills proposed since President Trump's election. The article also provides some historical context, noting "legislative backlash" to civil rights protests such as the Montgomery Bus Boycott compared to current lawmakers reacting to demonstrations organized via social media. At the end of the article, there is a brief state-by-state description of bills that have been introduced.
Washington Post>
February 17, 2017: ACLU Decries Rise of Anti-Protest Legislation
In a detailed blog post, staff members with the ACLU Speech, Privacy, and Technology Project criticize the rise of anti-protest legislation across the nation and say many of the state bills are unconstitutional. In fact, they specify "protesting in the streets is a fundamental constitutional right."
ACLU>
Map: ACLU Fighting Anti-Protest Bills As of 6/23/17>
January 31, 2017: Proposals to Increase Punishment for Obstructing Highways
"Bills that would increase penalties for unauthorized protests" have been introduced in multiple state legislatures across the nation, NPR reports. These proposals are sparking debate between those who advocate for public safety versus some who call them "an attack on free speech."
NPR>
STATE NEWS
A sampling of some of the states that have considered laws restricting demonstrations.
ARIZONA: To Arrest People Who Plan Protests
To punish violent protestors incited by paid organizers, Arizona state senators passed a bill to apply racketeering laws to demonstrations that cause property damage. SB 1142 would allow prosecution of everyone who participated in the protest and seizure of their assets, including individuals who remained peaceful. It also authorizes the arrest of people who are planning demonstrations. Sen. Steve Farley, D-Tucson, was quoted saying, "That will have a chilling effect on anybody, right or left, who wants to protest something the government has done.''
AZCentral>
Arizona Capital Times>
McClatchy>
AZ Central>
COLORADO: To Criminalize Demonstrators Who Tamper with Oil Pipelines
In an effort to prevent any demonstrations involving "tampering with oil and gas equipment," Colorado State senators passed SB 17-035 to raise the crime from a misdemeanor ($1,000 fine) to a felony ($100,000 fine). The official Colorado record of the bill (http://leg.colorado.gov/bills/sb17-035) then reports simply that the bill moved to the House and "lost."
http://denver.cbslocal.com/2017/02/17/bill-would-make-oil-gas-pipeline-tampering-a-felony/
February 28, 2017: Bill Amended To Protect Some Civil Disobedience
Denver Post >
http://www.denverpost.com/2017/02/28/oil-and-gas-protesters-republican-lawmakers/
February 17, 2017: Bill Passes Subcommittee
CBSDenver>  
Bill Would Make Oil & Gas Pipeline Tampering A Felony
"Driving is a privilege. Speech is a right," Ortiz said. "Your right as a driver is not protected by the U.S. constitution. Your First Amendment right to speech is." WUFT quoting University of Florida Professor Paul Ortiz.