The Trump campaign released a new political advertisement that accused presidential candidate Joseph Biden of bribing the Ukranian government while he served as the Vice President under Barack Obama. When the Biden campaign asked Facebook to remove the ad, arguing that it spread demonstrably false information to voters, the social media company refused, citing free speech principles.
In a letter to Biden's campaign, Facebook's public policy director for Global Elections, Katie Harbath, explained the company's decision making process: "Our approach is grounded in Facebook's fundamental belief in free expression, respect for the democratic process, and the belief that, in mature democracies with a free press, political speech is already arguably the most scrutinized speech there is." 
See also: Presidential Candidate Tulsi Gabbard Sues Google for $50 Million For Free Speech Violations
Facebook is not the only company to have aired Trump's "Biden Corruption" commercials. According to Dylan Byers, a NBC senior media reporter, Fox News, MSNBC/NBC, ABC, CBS, Google/YouTube, and Twitter have not banned the commercial.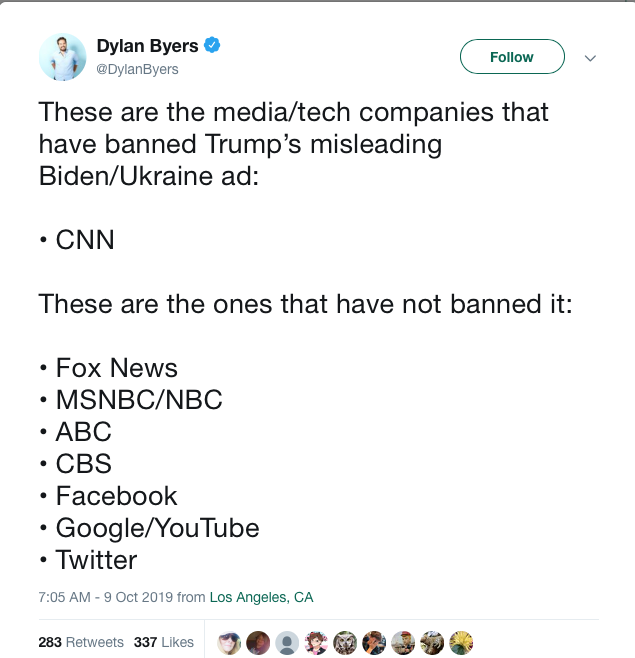 Additionally,  according to Reuters, both Google and Twitter have received similar letters from the Biden campaign requesting that they remove the ad from their platforms.
CNN, however, has refused to air the commercial because it "disparaged journalists" and makes assertions that have been proven "demonstrably false by various news outlets…".
Facebook's decision to keep Trump's ad on its platform reflects an earlier change in its policies. Last month, Facebook announced that the company would not fact-check statements politicians posted to its site because they did not want to play referee during an election cycle.
"It's not our role to intervene when politicians speak," Nick Clegg, Facebook's vice president of global affairs and communications, said in a speech in September. "That's why I want to be really clear today—we do not submit speech by politicians to our independent fact-checkers, and we generally allow it on the platform even when it would otherwise breach our normal content rules."
As a private company, Facebook is not bound by the First Amendment, and it has the right to decide how to regulate speech on its platform. Still, their refusal to remove Trump's ad has been met with criticism.
In an email to The New York Times, T.J. Ducklo, a spokesman for Mr. Biden, wrote, "Donald Trump has demonstrated he will continue to subvert our democratic institutions for his own personal gain, but his shortcomings are no excuse for companies like Facebook to refuse to do the right thing."
The New York Times The Washington Post Vox
---
Tags
---