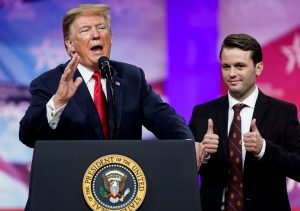 News & Updates
March 21, 2019: Trump Signs Executive Order, Says "Universities that want taxpayer dollars should promote free speech, not silence free speech."  
President Donald Trump signed an executive order which he has promised will require college campuses to support free speech or risk losing federal research funds.
An early release copy of the order states:
"My Administration seeks to promote free and open debate on college and university campuses. Free inquiry is an essential feature of our Nation's democracy, and it promotes learning, scientific discovery, and economic prosperity. We must encourage institutions to appropriately account for this bedrock principle in their administration of student life and to avoid creating environments that stifle competing perspectives, thereby potentially impeding beneficial research and undermining learning."
March 4, 2019: Trump's Announcement Gave Few Details But Has Already Drawn Criticism From Higher Education Leaders and Academics
President Trump vowed to sign an executive order requiring American colleges and universities to protect free speech on campus, and would withhold federal research funds from schools that don't comply.
"Today, I am proud to announce that I will be very soon be signing an executive order requiring colleges and universities to support free speech if they want federal research funds," Trump said in his remarks at the annual Conservative Political Action Conference, known as CPAC.
During the conference, Trump brought Hayden Williams a conservative activist onto the stage. Williams was punched last month at University of California, Berkeley while recruiting students for Turning Point USA, a youth organization that promotes limiting government regulations. Neither of the people involved in the assault were students of University of California, Berkeley.
"If they want our dollars, and we give it to them by the billions, they've got to allow people like Hayden and many other great young people, and old people, to speak," Trump said amidst applause. "Free speech."
Trump, however, gave no further details about the order.
According to The Chronicle of Higher Education, Trump's announcement has drawn criticism from college leaders and legal scholars over the prospective order's legality and premise.
Notably, University of Chicago President Robert Zimmer, who commissioned the publication of the "Chicago Principles" that have been adopted or endorsed by a number of other universities, spoke out against Trump's proposed executive order in a campus-wide email:
"It makes the government, with all its power and authority, a party to defining the very nature of discussion on campus. The second feature is the inevitable establishment of a bureaucracy to enforce any governmental position. A committee in Washington passing judgment on the speech policies and activities of educational institutions, judgments that may change according to who is in power and what policies they wish to promulgate, would be a profound threat to open discourse on campus. In fact, it would reproduce in Washington exactly the type of on-campus 'speech committee' that would be a natural and dangerous consequence of the position taken by many advocating for the limitation of discourse on campuses."
In response to the announcement, the University of California issued a statement, calling the proposed order "misguided and unnecessary."
The Trump administration has previously participated in campus speech litigation. In January 2018, the Justice Department filed a statement of interest in support of two conservative groups suing UC Berkeley over its Major Events Policy, saying their rights were violated after appearances by conservative speakers were cancelled.
Reuters Associated Press The Chronicle of Higher Education
Analysis & Opinion
What Are The Potential Problems?
Catherine J. Ross, professor of law at George Washington University Law School, explains the possible issues that could arise if President Trump signs an executive order requiring colleges to support free speech on their campuses in order to receive federal research funds.
First Amendment Watch
University of Chicago President: Executive Order Would Be A 'Grave Error'
University of Chicago President Robert Zimmer writes that rather than improving the state of free expression on campuses, "further legislative or executive Federal action has the potential to reinforce and expand the difficulties regarding education and free expression that we are confronting now."
How Would This Work?
Adam Kissel, former deputy assistant secretary for higher-education programs in the U.S. Education Department ('17-'18), examines how an executive order like the one Trump has proposed could play out.
National Review
More On The Chicago Statement
Geoffrey Stone, professor at the University of Chicago Law School and author of the "Chicago Principles," speaks about his role in drafting the widely-adopted statement on Freedom of Expression.