The Supreme Court heard nearly three hours of oral arguments on Tuesday in two cases weighing whether the First Amendment protects users from being blocked from social media accounts run by public officials. 
The nine justices grappled with the distinction between personal and official accounts and the free speech rights of public officials online versus those of their constituents.
In both cases the key question the court weighed was whether a public official is engaged in "state action" when blocking someone from their page, which would be constrained by the First Amendment, while blocking someone from a private page would not.
The two cases — O'Connor-Ratcliff v. Garnier and Lindke v. Freed — are the first of several controversies expected to land before the high court in the coming months about free speech protections online.
Both cases raised the question of whether a "disclaimer" could create a distinction between what is considered a personal page or the page of a public-facing official.
Justice Ketanji Brown Jackson asked why a government official should "get to choose whether or not they're done one or the other without, say, making a clear disclaimer or making it clear to people that this is actually happening in their personal capacity?" She added that she was struggling to understand "why the onus isn't on the government official to be clear about the capacity in which they're operating."
But Justice Elena Kagan expressed doubts over the effectiveness of such a disclaimer. "Would a disclaimer turn this immediately into private action?"
Robert Corn-Revere, chief counsel at the Foundation for Individual Rights and Expression, a free speech advocacy group that filed amicus briefs in both cases on behalf of those blocked by public officials, warned of creating a standard that would allow officials to insulate themselves from criticism.
"There's no question that you can analogize social media platforms as a marketplace of ideas, but the question is, when do constitutional rules attach when a public official is using that resource?" he said in an interview prior to oral arguments. "Our view is that if you apply simply a formalistic rule that says it has to be owned by the government, then you give public officials a very easy way to communicate in ways where they can cut off having to hear critics."
Social media was described by the Supreme Court in Packingham v. North Carolina in 2017 as the "modern public square," since public discourse often is posted on social media platforms as well as being discussed in government-controlled forums.
A government official's use of social media creates a limited purpose public forum, in which the government can limit the forum to certain subjects but cannot discriminate among speakers based on their viewpoint. Officials can, however, impose reasonable time, place and manner restrictions — such as maintaining a site for discussion of specific topics.
Justice Kagan referenced a previous legal battle involving former President Donald Trump, who in 2018 was found by the U.S. Court of Appeals for the Second Circuit to have violated the First Amendment rights of people he blocked from his Twitter account. The Supreme Court vacated the judgment in Trump's case in 2021 and instructed the Second Circuit to dismiss the case as moot. The former president was no longer in the White House, they reasoned, and he had been denied access to Twitter on Jan. 8, 2021, two days after the Capitol insurrection. Trump was reinstated on the app in November 2022 but refrained from posting until late August.
"I don't think a citizen would be able to really understand the Trump presidency, if you will, without any access to all the things that the president said on that account," Justice Kagan said. "It was an important part of how he wielded his authority. And to cut a citizen off from that is to cut a citizen off from part of the way that government works."
But a lawyer for two officials in one case, Hashim Mooppan, said that despite Trump using his online account to discuss matters of public concern, it doesn't implicate the First Amendment.
"President Trump could have done the same thing from Mar-a-Lago or a campaign rally," he  said. "If he gave every one of those speeches at his personal residence, it wouldn't somehow convert his residence into government property."
One case, O'Connor-Ratcliff v. Garnier, focuses on two elected school board members in San Diego County who set up social media accounts on Facebook and Twitter — separate from their personal accounts —  to discuss and promote school-related content.
Christopher and Kimberly Garnier, a couple with children in the district, were known for frequently posting long, critical posts on those pages. When the school board members blocked them, the Garniers sued, claiming it violated their rights to free speech and to petition their government.
In July 2022, the U.S. Court of Appeals for the Ninth Circuit upheld a lower court's judgment which found that the two school district officials infringed on the First Amendment rights of the couple by blocking them from the social media accounts because the accounts were used to carry out the school board members' official duties. The board members appealed to the Supreme Court, which agreed to take up the case on April 24.
In their brief to the court, the board members argued that "public officials retain their own First Amendment rights over such pages. Courts cannot limit their editorial discretion." Attorneys for the board members did not respond to a request for comment.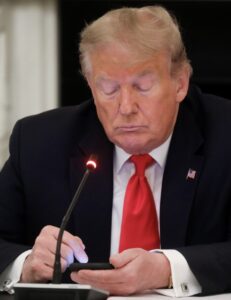 Teacher Guide
Can Public Officials Block Critics from Their Social Media Accounts Consistent with the First Amendment?
While social media platforms are privately owned, the speech of public officials on the platforms to address issues of public concern raises First Amendment questions.
The Garniers' attorney, Cory Briggs, said in an interview last week that if public officials can only address matters of public concern in government-controlled spaces, like sidewalks or town halls, then "the First Amendment in the 21st century is going to be meaningless."
"Most of the ways we communicate now are through private communications infrastructure," he said. "If the only place the First Amendment applies now is when you're on government property or in a government-created forum, the First Amendment will effectively be gutted, and I don't think there are five votes on the Supreme Court for that view of the First Amendment."
In the second case, Lindke v. Freed, Port Huron, Michigan city manager James Freed created a public Facebook page on which he posted about both city business and his personal life. After the COVID-19 pandemic started, Freed began sharing the city's public health policies and other statistics about the ongoing pandemic.
Kevin Lindke, a Port Huron resident, was critical of Freed's posts and his handling of the pandemic and left comments on his page. When Freed blocked Lindke from the page, Lindke sued, claiming it violated his First Amendment rights.
In June 2022, the U.S. Court of Appeals for the Sixth Circuit ruled in favor of Freed, finding that he "maintained his Facebook page in his personal capacity," holding that the Facebook page wasn't considered "state action" since it "neither derives from the duties of his office nor depends on his state authority."
The "toughest part" of the court's job, Briggs said, is going to be how it decides where to draw the line indicating at "what point does the account go from private to public and public to private?"
Corn-Revere said that every case is going to "provide a different mix" of facts.
"There are always going to be a range of factors to consider," he said, "and at least in our judgment, a bigger risk is if you create a bright line that allows public officials to evade their constitutional obligations to hear from their critics."
Editor's note: This story has been updated with reporting on the oral arguments.
Oct. 31, 2023 — O'Connor-Ratcliff v. Garnier oral arguments
Oct. 31, 2023 — Lindke v. Freed oral arguments
---
Tags
---