July 10, 2019
Former New York assemblyman Dov Hikind and Republican congressional candidate Joseph Saladino are suing Rep. Alexandria Ocasio-Cortez for blocking them on Twitter. 
The lawsuits were filed soon after the U.S. Court of Appeals for the Second Circuit ruled that President Trump's Twitter account, @realDonaldTrump, was a public forum, and as such, blocking critics was a violation of their First Amendment rights.
Both Hikind and Saladino hope that Ocasio-Cortez will be held to the same standard.
Hikind, who founded Americans Against Anti-Semitism, alleges that Rep. Ocasio-Cortez blocked him after he criticized her use of the term "concentration camps" to refer to the federal government's detention facilities that hold migrant children. 
"No one is above the law." Hikind tweeted on Tuesday, July 9. "If the courts ruled POTUS can't block people on Twitter, why would @AOC think she can get away with silencing her critics?" 
Saladino was also blocked from the congresswoman's account after "responding to one of her political posts."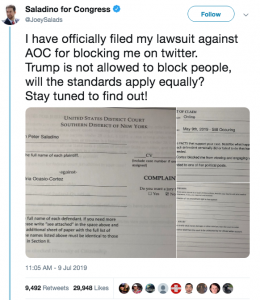 As with Knight First Amendment Institute v. Trump, which centers on the President's personal account @realDonaldTrump and not on his official account, @POTUS, the lawsuits against Ocasio-Cortez refer to her personal Twitter account, @AOC.
"AOC regularly posts political messages of both a public nature," Hikind said in the complaint. "Defendants twitter page was active with over 17 tweets and re-tweets between July 8, 2019 and July 9, 2019 alone. Each of these tweets involves a public interest and matters of official capacity, such as immigration, climate change, public housing, among other topics."
In the court's decision in the Trump Twitter ban case, Circuit Judge Barrington D. Parker noted that "not every government official is a government account" and that the outcome of future decisions will be "informed by how the official describes and uses the account; to whom features of the account are made available; and how others, including government officials and agencies, regard and treat the account."