A former high school teacher took a knee during the singing of the national anthem at a college football championship game in New Orleans on Monday, January 13th. 
Kelly D. Holstine, Minnesota's 2018/2019 "Teacher of the Year," was invited along with several dozen teachers to the game, where they were honored for their distinguished work with students. (The College Football Playoff Foundation is a sponsor of the Teacher of the Year program).
See also: Are Professional Sports Players Protected by the First Amendment When They Engage in Political Protest In The Field?
According to the The Hill, Holstine was told before the game that President Donald Trump and first lady Melania Trump would be on the field during the national anthem. At first, she considered simply refusing to place her hand on her heart, but told The Hill that doing so didn't feel like "enough" of a statement.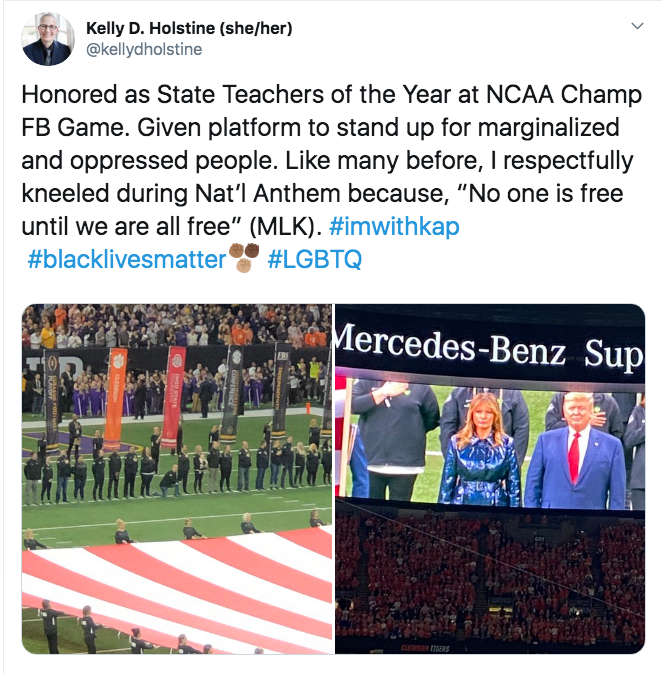 Beginning in 2016, a number of NFL football players began protesting police shootings of unarmed black men by  kneeling during the national anthem. Though some understood the form of protest to be an exercise in free speech, others, including President Trump, denounced the players' actions. 
"I really feel like our country is not serving the needs of all its inhabitants … so many humans right now that are not being given the respect and the rights that they deserve," Holstine explained in an interview with The Hill. "Not everybody is given the opportunity to have a voice, and I can take a small moment, a respectful moment of protest, and exercise my First Amendment rights, and stand up for my students and for vulnerable adults and for people who are not treated in the way that they should be."
Holstine also protested Trump's administration's policies in April by skipping a White House ceremony honoring the annual "Teacher of the Year" winners. She recently left teaching to work at an LGBTQ+ advocacy organization as their director for educational equity.
---
Tags
---