Josie Huang, a reporter with NPR affiliate KPCC, was tackled and arrested while covering a protest on Saturday, September 12th.
Huang had been attending a press conference about the shooting of two Sheriff's deputies in Compton earlier that day. As she left the conference and headed for her car, she heard shouting outside of the hospital's parking garage, so she decided to investigate.
"It was almost 11 pm. Then I heard loud shouting outside the garage, so I went to check things out. I had a lanyard around my neck with a press ID," Huang wrote on her Twitter account.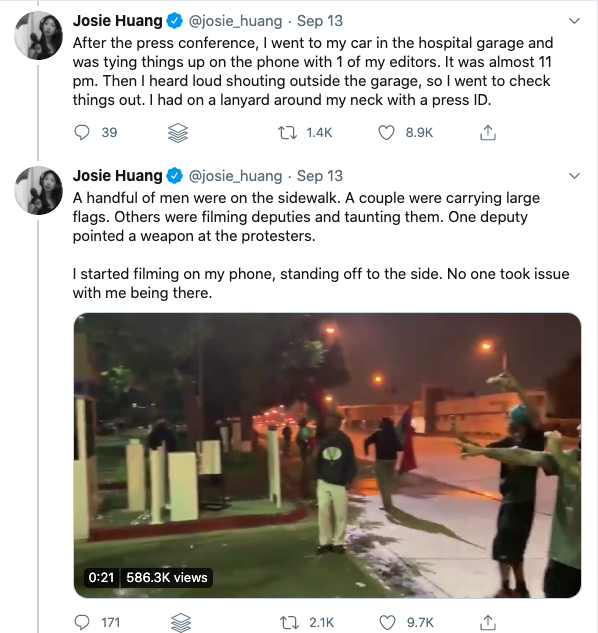 A small group had been protesting outside of the hospital, and a handful of men were taunting and shouting at the deputies. "I started filming on my phone, standing off to the side. No one took issue with me being there," she wrote. 
The group began to disperse, but the deputies followed one of the men down the street, and Huang followed, filming the scene from a distance.
The deputies tackled the man to the ground, while Huang continued to film from a distance. The deputies were yelling at her to "back up," and she said that one of the deputies knocked the phone out of her hand and multiple deputies pinned her to the ground. Huang, despite repeatedly yelling that she was a member of the press and had her press badge prominently displayed, was arrested and charged with obstruction.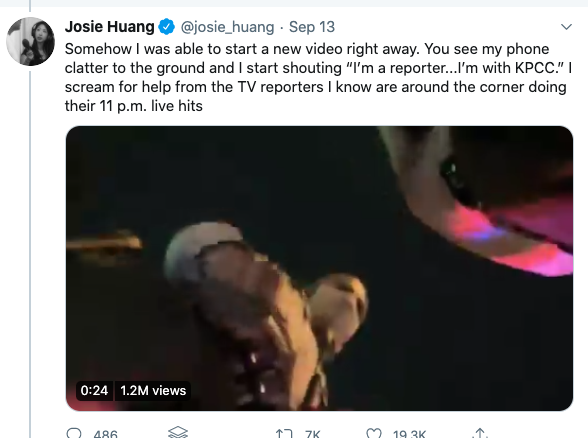 She spent five hours in custody. 
Before Huang was released and could post her account of the events on Twitter, the Los Angeles County Sheriff's Department issued a statement that "a female adult ran towards the deputies, ignored repeated commands to stay back as they struggled with the male and interfered with the arrest." The department also claimed that Huang didn't state that she was a member of the press and that she didn't have press credentials on her.
In statement to the Los Angeles Times, Herb Scannell, chief executive of Southern California Public Radio said, "Her arrest is the latest in a series of troubling interactions between our reporters and some local law enforcement officers. Journalists provide an essential service, providing fair, accurate and timely journalism, and without them, our democracy is at risk."
 A spokesperson for the sheriff's department told Newsweek that an investigation into Huang's arrest is underway.
---
Tags
---