Join First Amendment Watch and Foundation for Individual Rights in Education (FIRE) for a virtual taping of the So to Speak Podcast with Jacob Mchangama, author of "Free Speech: A History from Socrates to Social Media" in conversation with Greg Lukianoff, Professor Stephen D. Solomon, Sarah McLaughlin, and host Nico Perrino. Panelists will be discussing how lessons from free speech movements throughout world history can help us overcome today's divisions over the value of free speech, and how conflicts between egalitarian and elitist schools of free speech thought are still with us in the digital age.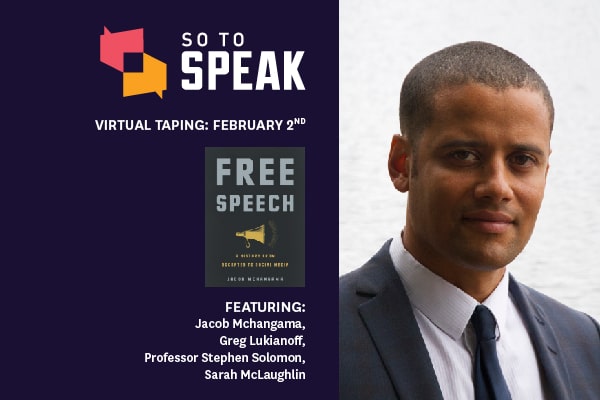 The details
The virtual taping will take place on Feb. 2 at 6 PM Eastern Time. Registration is required.
50 attendees will be chosen at random to receive a free copy of Jacob Mchangama's new book, "Free Speech: A History from Socrates to Social Media."
Hailed as the "first freedom," free speech is the bedrock of democracy. But it is a challenging principle, subject to erosion in times of upheaval. Today, in democracies and authoritarian states around the world, it is on the retreat.
In Free Speech, Jacob Mchangama traces the riveting legal, political, and cultural history of this idea. Through captivating stories of free speech's many defenders—from the ancient Athenian orator Demosthenes and the ninth-century freethinker al-Rāzī, to the anti-lynching crusader, Ida B. Wells and modern-day digital activists—Mchangama reveals how the free exchange of ideas underlies all intellectual achievement and has enabled the advancement of both freedom and equality worldwide. Yet the desire to restrict speech, too, is a constant, and he explores how even its champions can be led down this path when the rise of new and contrarian voices challenge power and privilege of all stripes.
Meticulously researched and deeply humane, Free Speech demonstrates how much we have gained from this principle—and how much we stand to lose without it.
Winners must have a valid U.S. mailing address to receive their copy.
Panelists and host
Jacob Mchangama is the founder and executive director of the Danish think tank Justitia and the host of the podcast Clear and Present Danger: A History of Free Speech. His writing and commentary on free speech have appeared in global media in many languages around the world including the Economist, The Washington Post, WSJ Europe, Foreign Affairs, Foreign Policy, NPR, Slate.fr, Indian Express, Raseef, BBC World, France24, Deutsche Welle, El Pais, and many other outlets. In 2016 Jacob was a Marshall Memorial Fellow and from 2018 to 2020 he was a visiting fellow at FIRE, in 2018 he was a visiting scholar at Columbia's Global Freedom of Expression Center in New York. Jacob has won numerous prizes and awards for his work and commitment to free speech and human rights. He lives in Copenhagen, Denmark.
Greg Lukianoff is an attorney, New York Times best-selling author, and the President and CEO of the FIRE. He is the author of "Unlearning Liberty: Campus Censorship and the End of American Debate," "Freedom From Speech," and FIRE's "Guide to Free Speech on Campus." Most recently, he co-authored "The Coddling of the American Mind: How Good Intentions and Bad Ideas Are Setting Up a Generation for Failure" with Jonathan Haidt. This New York Times best-seller expands on their September 2015 Atlantic cover story of the same name. Greg is also an Executive Producer of "Can We Take a Joke?" (2015), a feature-length documentary that explores the collision between comedy, censorship, and outrage culture, both on and off campus, and of "Mighty Ira: A Civil Liberties Story" (2020), an award-winning feature-length film about the life and career of former ACLU Executive Director Ira Glasser.
Stephen Solomon is the founding editor of First Amendment Watch. He is Marjorie Deane Professor at NYU's Arthur L. Carter Journalism Institute, where he teaches First Amendment law. His most recent book, "Revolutionary Dissent: How the Founding Generation Created the Freedom of Speech" (St. Martin's Press, 2016), explored the birth of freedom of expression in America's founding period. It was named First Amendment book of the year by the legal blog Concurring Opinions. Another of his books, "Ellery's Protest: How One Young Man Defied Tradition and Sparked the Battle Over School Prayer," told the story of the controversial Supreme Court case that declared state-sponsored prayer and Bible reading in the public schools to be a violation of the Establishment Clause of the First Amendment. His work has won the Hillman Prize, the Gerald Loeb Award, and the John Hancock Award. He is the founder and director of NYU's M.A. program in Business and Economic Reporting. He is a graduate of Penn State University and Georgetown University Law Center.
Sarah McLaughlin is Director of FIRE's Targeted Advocacy program, where she focuses on the relationship between American universities and global censorship. Her writing about free speech issues, including blasphemy, China, and art censorship, has been featured in publications including Foreign Policy, Newsweek, Artsy, The Huffington Post, and New York Daily News.
Nico Perrino is the vice president of FIRE's communications department, which oversees media relations, social media, web development, graphic design, audio and video production, advertising and marketing, public opinion research, FIRE's award-winning Newsdesk, and additional public awareness programs for the organization. He is also the creator and host of FIRE's So to Speak: The Free Speech Podcast. As a documentarian, Nico was Co-Director and Senior Producer of "Mighty Ira: A Civil Liberties Story" (2020), a feature-length film about the life and career of former ACLU Executive Director Ira Glasser. Previously, Nico served as Creative Consultant on "Can We Take a Joke?" (2015), a film about censorship in stand up comedy.
Join us by registering through Zoom for the virtual taping.
---
Tags
---