Disney narrowed the scope of its federal lawsuit against Florida Gov. Ron DeSantis on Thursday, focusing on First Amendment claims that the governor retaliated against the company following its public statement opposing the Parental Rights in Education bill, widely known as the "Don't Say Gay" bill.
The lawsuit had previously included allegations that Gov. DeSantis violated Disney's constitutional rights under contract-based claims, but those claims are now being heard in a separate, state-court case against the theme park's new DeSantis-appointed state oversight board.
"A targeted campaign of government retaliation—orchestrated at every step by Governor DeSantis as punishment for Disney's protected speech—now threatens Disney's business operations, jeopardizes its economic future in the region, and violates its constitutional rights," Disney's second amended complaint reads.
In response to a request for comment from First Amendment Watch, Jeremy Redfern, Gov. DeSantis' press secretary, pointed to the state's earlier motion to dismiss the lawsuit. 
In the motion, the state wrote that it "welcomes Disney's surrender on all of its claims challenging his legislative acts." While the company alleges those actions were a result of Disney's speech, the state claims since "all those acts are legislative in nature, they are protected by absolute legislative immunity."
The Walt Disney Company did not respond to a request for comment.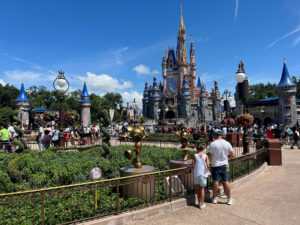 Previous
Disney Sues DeSantis Claiming Retaliation for Denouncing Florida's 'Don't Say Gay' Bill
The actions against the theme park follow Disney's criticism of the "Don't Say Gay" bill, which bans instruction on sexual orientation and gender identity in kindergarten through third grade classrooms. Following criticism of the company's apparent reluctance to take a public position on the bill, Disney issued a statement after its passage saying that the legislation "should never have passed and should never have been signed into law."
"We are dedicated to standing up for the rights and safety of LGBTQ+ members of the Disney family," the company said, "as well as the LGBTQ+ community in Florida and across the country."
In the weeks that followed, the Florida legislature passed and Gov. DeSantis signed new measures that impacted Disney's self-governance. One nullified an agreement that had given the company significant autonomy in managing its theme park complex. Another granted the state new authority to inspect the theme park's monorail system.
Disney has argued that those actions amount to retaliation on political speech protected by the First Amendment. In the 2006 Supreme Court case Hartman v. Moore, the court held that "the First Amendment prohibits government officials from subjecting an individual to retaliatory actions … for speaking out."
"This unconstitutional chilling effect is particularly offensive," Disney wrote in the latest filing, "due to the clear retaliatory and punitive intent that motivated the Governor's and the Legislature's actions."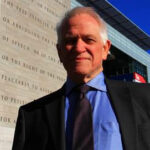 Commentary & Analysis
Robert Corn-Revere: Punishing Disney for Opposing Florida's 'Don't Say Gay' Law Poses Serious First Amendment Problems
In May, Robert Corn-Revere, chief counsel at the Foundation for Individual Rights and Expression (FIRE), told First Amendment Watch that Disney's case against DeSantis is "strong" because "you don't have to guess at what motivated the action against Disney." 
"The political leaders both in the executive and legislative branches have not only stated their reasons," he said, "but have doubled down on them, and that is in conflict with the basic First Amendment rule that the state cannot retaliate against someone or a corporation for the exercise of First Amendment rights."
Sept. 8, 2023 — Disney v. DeSantis, Second Amended Complaint
Aug. 9, 2023 — Florida's Reply in Support of Motion to Dismiss
---
Tags
---