A jury in Ohio awarded $33 million in punitive damages to a local bakery that had sued Oberlin College for libel and slander.
The complaint filed in Ohio state court in November 2017, alleged that Oberlin was complicit in supporting and encouraging student protests against Gibson's bakery following the arrests of three African American students.
On November 9, 2016, Oberlin students Jonathan Aladin, Cecelia Whettston, and Endia Lawrence entered Gibson's Bakery, whereupon Aladin attempted to steal two bottles of wine. The storeowner's son followed Aladin outside and wrestled him to the ground until the police arrived.
Aladin and his friends were immediately arrested and charged; Aladin with robbery, a second-degree felony, and Whettston and Lawrence with first-degree misdemeanor assault.
Oberlin students began protesting the store, passing out fliers calling the bakery "a racist establishment with a long account of racial profiling and discrimination."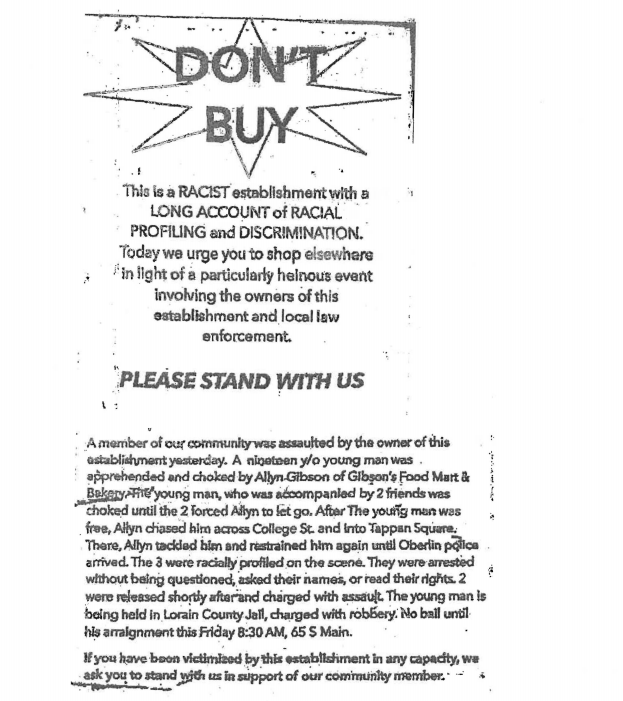 The complaint alleges that school faculty, including its Dean of Students, Meredith Raimondo, "handed out hundreds of copies of the flyer to Oberlin College faculty, staff, and students, the Oberlin community, and media representatives."
According to the complaint, the Oberlin Police Department didn't find any evidence of racial profiling on the part of Gibson's Bakery. "In response to the Defendants', and other demonstrators', rampant accusations of Plaintiffs' racial profiling, the Oberlin Police Department conducted an investigation and found a complete lack of any evidence of racism. By way of example, the Oberlin Police Department explained that of the 40 adults arrested for shoplifting at Gibson's Bakery in the past five (5) years, only six (6) were African-American suspects," reads the complaint.
The complaint also states that Oberlin faculty further encouraged the demonstrations by suspended classes, and providing student protestors with pizza and other resources.
On June 10, an Ohio jury sided with the bakery's defamation claims, and awarded the owners $11 million in compensatory damages. On June 14, the jury awarded another $33 million in punitive damages.
While campus protests are protected free speech, the problem here is the role the college played in encouraging the protests and promulgating the defamatory statements.
Oberlin is expected to appeal the decision.
The Atlantic The Hill Complaint
---
Tags
---