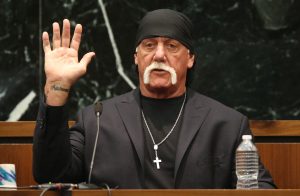 Hulk Hogan, a former wrestler whose real name is Terry Bolleau, sued Gawker Media for invasion of privacy after it published a sex tape of him and friend's wife. Hogan's suit was financially backed by Peter Thiel, a Silicon Valley entrepreneur who'd been been outed as being gay by Gawker. A jury awarded a $140 million judgement to Hogan. Gawker initially vowed to appeal the award, but ultimately settled with Hogan for $31 million. However, the settlement was still too costly for the online media company, and Gawker filed for bankruptcy in June 2016. It was sold to Univision two months later for $135 million.
For news, analysis & additional materials read on.
---
News & Updates
October 2012: Hogan Sues Gawker For $100M
Hulk Hogan sued Gawker for $100 million for invasion of privacy for publicly releasing a sex tape that involved Hogan and his friend's wife. Hogan also filed a motion for a preliminary injunction and a temporary restraining order to have the video removed. Gawker's counsel argued that the footage is newsworthy and protected by the First Amendment, and that Hogan should not have had an expectation of privacy.
New York Magazine
March 2016: The Trial
Hogan was the first witness to testify in his lawsuit against Gawker, telling the jury that he was "completely humiliated" by the the video going public, and that he was unaware that the encounter was being filmed. The trial highlighted the tension between the right to privacy and the freedom of the press, and tested the limits of online press freedom.
"Gawker is defending its First Amendment right to join an ongoing conversation about a celebrity when others are talking about it and the celebrity is talking about it. This is a crucial issue not only for Gawker, but for all media organizations." –Gawker chief lawyer Seth D. Berlin of Levine Sullivan, Koch and Schulz
The New York TimesThe New York Times
Hulk Hogan v. Gawker: A Guide to the Trial for the Perplexed
The Award
The jury found that Gawker violated Hogan's privacy, and that he suffered emotional distress. Hogan was awarded $140 million in total damages.