Alex Jones is suing Massachusetts Congressional candidate Brianna Wu over a tweet he alleges defamed him. In a June 17 tweet, Wu suggests that Jones emailed child pornography to the parents of the children killed in the Sandy Hook Elementary School mass shooting.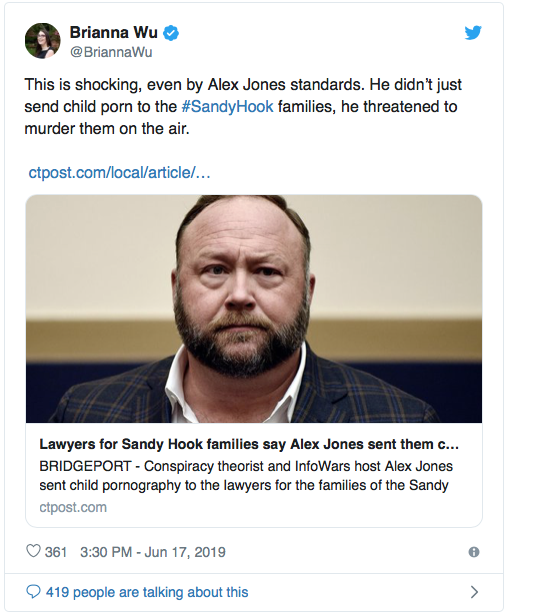 The tweet was in response to a webcast in which Jones ranted about the revelation that a dozen emails retrieved during the discovery process in the defamation suit brought against him by the Sandy Hook parents had images of child pornography attached. The FBI investigated, and determined that they were sent to Jones from outside of his organization, and no one had viewed the images.
The lawsuit, filed in the United States District Court for the Western District of Texas, also names The Young Turks, a Twitter account run by Cenk Uygur, for tweeting "Alex Jones sent child porn to Sandy Hook parents," and Andrew Kimmel, a former video producer for BuzzFeed, as defendants. In a tweet, Kimmel, who is not mentioned anywhere in the complaint, says he has no idea why he's being sued.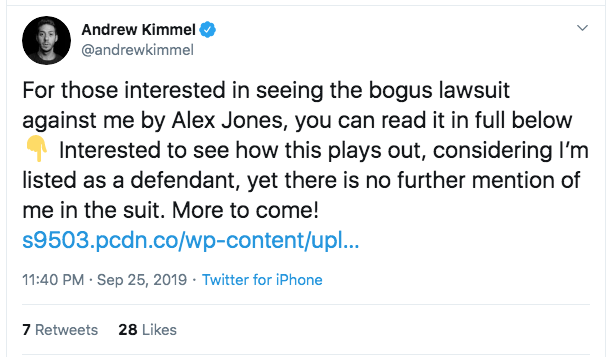 "The Defendants launched a campaign of lies and libels against their media competitor and ideological opponent, Alex Jones," the complaint says. "Defendants virally spread one of the worst smears that can be spread about anyone: accusing someone of one of the most infamous federal felony crimes, even though defendant knew Jones was actually the victim of that crime."
Jones' attorney, Robert Barnes, is demanding a "jury trail [sic]"
---
Tags
---