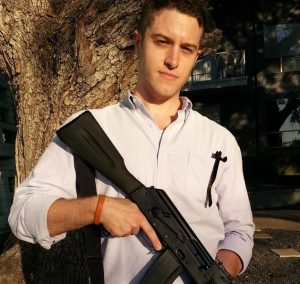 News & Updates
December 19, 2018: Gun Violence Prevention Group Sues Trump Administration Over 3D Gun Blueprints
The Brady Center to Prevent Gun Violence is suing the State Department to compel it to produce documents relating to its decision to allow the blueprints for 3D guns to be uploaded to the internet. The Center alleges that they have not received the documents that they requested via FOIA five months ago.
August 27, 2018: Judge Extends Temporary Restraining Order Until Hearing
A federal judge extended an earlier-issued temporary restraining order blocking the Trump administration from allowing the blueprints for untraceable 3-D printed guns to be posted online until the case is resolved. The ruling is in favor of the attorneys general from 19 states and Washington D.C. who argued that the guns were a public safety risk.
Despite the court order, the blueprints are still being distributed. Cody Wilson of Defense Distributed found a loophole in the judge's ruling, Instead of posting the blueprints online for free, he is selling them to customers who name their own price, and distributed them via mail or email.
July 31, 2018: Online Distribution Of Gun Blueprints Stalled By Judge Evening Before Publication
A U.S. judge has blocked the planned release of Defense Distributed's blueprints for 3D printed guns the evening before they were set to go online and set another hearing of the case for August 10, saying that the First Amendment ramifications need to be examined closely.
Reuters
July 31, 2018: Legal Battles Ensue Ahead Of August 1 Deadline
In a lawsuit, eight states and the District of Columbia are asking a judge to block the federal government's recent settlement with Defense Distributed, which will allow the company to publish the computer code blueprints to create 3D printed guns. The states contend that the plastic weapons are difficult to trace and would pose a safety threat to the public. In addition to the suit, 21 state attorneys general sent a letter to Attorney General Jeff Sessions and Secretary of State Mike Pompeo urging them to repeal the settlement.
Other legal disputes have emerged as well. After an emergency court challenge in Pennsylvania, Defense Distributed must temporarily block download accessibility to users in the state. Cody Wilson of Defense Distributed is also now suing officials in New Jersey and Los Angeles for attempting to bring legal action if the blueprints are made available in their locations. And an attempt by gun-control groups to get a temporary restraining order against Defense Distributed was denied by a federal judge in Texas.
"This is a free speech case. This isn't a gun case," Josh Blackman, lawyer for Defense Distributed told CNN. "One state cannot censor the speech of a citizen in another state."
Breaking: Washington and eight other states have sought a TRO and prior restraint on information posted on the internet. Regardless of your opinions on gun control, this case would set a dangerous 1st Amendment precedent. I will argue the TRO today. https://t.co/ENMBpJSZ9i pic.twitter.com/jo6zwouDpA

— Josh Blackman (@JoshMBlackman) July 31, 2018
Associated Press  The New York Times The Philadelphia Inquirer CNN
Complaint Defense Distributed v. Grewal and Feuer
July 10, 2018: 3D Printed Guns Creator Wins Lawsuit Arguing Code Is "Free Expression"
In a landmark legal move, the United States Department of State and the Second Amendment Foundation reached a settlement that allows the digital files that can create 3D printed guns to be freely published.  The State Department agreed to waive the prior restraint against the Defense Distributed, a non-profit organization that develops and publishes open source guns designs that can be used in 3D printing.
Cody Wilson, the founder and director of Defense Distributed, filed the lawsuit after he was ordered by the State Department to remove the digital files because they violated a law that controls exporting weapons without a license under the International Traffic in Arms Regulations (ITAR). Wilson sued the government for violating his First Amendment right to free speech.
The Second Amendment Foundation, who joined Defense Distributed in the lawsuit, wrote in a release that the settlement is "a victory for free speech."
SAF Press Release
Settlement Agreement
State Department Letter 2013
July 18, 2018: Wilson Began Early in the 3D Printing Game
The Washington Post reports on Wilson's early days of 3D printing and how support for his efforts ramped up after the Sandy Hook shooting by Second Amendment advocates. "[Code] is the essence of expression," Wilson told the Washington Post. "It meets all the requirements of speech-it's artistic and political, you can manipulate it, and it needs human involvement to become other things."
Washington Post
July 17, 2018: August 1st 3D Printed Guns Back On
When asked whether he has concerns about people with harmful intentions obtaining access to his designs, Wilson tells CNET that he has "no concerns regarding public access."
CNET
July 17, 2018: The Future of 3D Firearms
Wilson tells Ars Technica that after the files are published on August 1, he hopes that there will be a new group of people that could help fulfill his ultimate goal of unimagined, undetectable firearms.
Ars Technica
July 10, 2018: Pandora's Box For 3D Weapons?
Andy Greenberg of Wired goes inside Defense Distributed's headquarters and takes a look at their operations making machine and other digital fabrication tools that allow for "DIY" guns. He writes that, "by blurring the line between a gun and a digital file, Wilson had also successfully blurred the lines between the Second Amendment and the First."
Wired
Opinion & Analysis
August 9, 2019: No Perfect Solution To Gun Debate
"The issue's not going away, and it's not just about guns," writes Lata Nott, executive director of the First Amendment Center of the Freedom Forum Institute. "It's about how the lines between speech and conduct and information and action, are growing increasingly blurry."
The Freedom Forum Institute
August 1, 2018: The Flipping Of The Political Script In The 3D Printed Plastic Gun Case
In the 3D printed plastic gun case, Democrats and many liberals are invoking state rights arguments to create law and order, while many conservative libertarians are championing free speech ideals that would create a free flow of information.
The Christian Science Monitor
August 1, 2018: How Have Courts Ruled On Code As Free Speech?
Bloomberg Opinion columnist Noah Feldman says there are two major questions at play in this case: is computer code free speech and is speech that instructs the public how to commit a crime subject to First Amendment protection. The former question he says, is not definitively answered by the Supreme Court, but the lower courts generally rule that code is speech. In regards to the latter, the legal landscape in the Supreme Court and the lower courts are not that clear.
He writes:
"You might think this conclusion is a sign that judicial doctrine has gone too far toward protecting speech — and you might be right. But it's important to remember that strong free-speech protections always have societal costs."
Bloomberg Opinion
August 1, 2018: 3D Guns Are An Affront To The First And Second Amendment
Fox News columnist and gun expert John Lott writes that restrictions on 3D guns violates the First and Second Amendment. He cautions gun-control advocates from making sweeping claims about the impact of 3D guns, because whether legal or not, the guns can already be created with little technical knowledge.
Fox News
August 1, 2018: All Your Questions Answered About The 3D Printed Gun Case
The Washington Post breaks down the issue in a Q/A format and addresses whether this is a First or Second Amendment issue.
Washington Post
July 29, 2018: Legal Argument Against 3D Guns Is Not An Internet Issue, It Is An Export Issue
Tim Worstall makes the case in the Washington Examiner that 3D guns were inevitably going to be legal, because the issue at hand is the export of the designs outside of the US, for which he says there is no reason to restrict the export because the 3D blueprints are going to become commonplace.
Worstall writes that because of prior restraint, most speech, like the publication of the designs and downloading them, is permissible. "What happens next, well, free speech is part of that tree of liberty that must occasionally be watered with blood," he adds.
Washington Examiner
July 27, 2018: Is Computer Code Protected Speech?
Despite Defense Distributed's code soon becoming available to the public, the debate around free speech in the digital age is far from over, writes Allison Eck for NOVA Next.
NOVA Next
July 18, 2018: How Should The Constitution Evolve? 
Jacob Sullum argues in Reason against Steve Israel's argument in the New York Times, writing that the Framers did not anticipate many of the forms of firearms that exist today, but that does not mean that the Second Amendment has no bearing on their constitutionality.
Reason
July 17, 2018: Former Congressman Makes The Case Against Undetectable Firearms In the New York Times
This settlement on 3D printed guns undermines the Undetectable Firearms Act, writes Steve Israel, a former US representative from Long Island from 2001 to 2017, as he calls on Congress to modernize legislation that requires downloadable guns to be detectable. "After all," he writes, "the people who used quills to write the Second Amendment couldn't comprehend that one day guns would be produced by 3D printers."
The New York Times