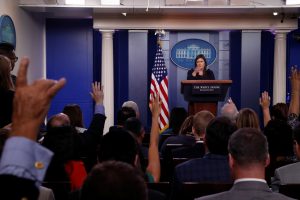 White House press briefings are at their shortest in decades, sometimes only 15 minutes, if they happen on camera at all.
White House press secretary

Sean Spicer and deputy Sarah Huckabee Sanders often deflect answers or answer defensively. White House Press Pool reporters – and their reading public – are increasingly left without access and answers to the Trump Administration. Should we toll the death knell for the briefing?For news, analysis, history & legal background read on.
---
News & Updates
January 22, 2019: Trump Directed Press Sec. Sanders 'Not To Bother' Holding Daily Briefings
President Trump declared in a tweet that he has told White House press secretary Sarah Huckabee Sanders to stop holding daily press conferences because the press covers her "rudely and inaccurately," and that "word gets out anyway."
The reason Sarah Sanders does not go to the "podium" much anymore is that the press covers her so rudely & inaccurately, in particular certain members of the press. I told her not to bother, the word gets out anyway! Most will never cover us fairly & hence, the term, Fake News!

— Donald J. Trump (@realDonaldTrump) January 22, 2019
The Trump administration has been criticized for the decline in regularly scheduled, formal press briefings. The last on-camera briefing took place on December 18, making this the longest period of time that has passed without a press briefing since the Clinton administration, according to the University of California Santa Barbara's American Presidency Project.
Trump has opted to answer questions from reporters in other settings however, and communicates regularly on Twitter. Both Sarah Sanders and Kellyanne Conway have also answered questions from reporters from around the White House.
White House Correspondents' Association president Olivier Knox deplored the decline in formal briefings in a statement following Trump's tweet:
"This retreat from transparency and accountability sets a terrible precedent. Being able to question the press secretary or other senior government officials publicly helps the news media tell Americans what their most powerful representatives are doing in their name. While other avenues exist to obtain information, the robust, public back-and-forth we've come to expect in the James A. Brady briefing room helps highlight that no one in a healthy republic is above being questioned."
CNN Politico The Hill ABC News
August 31, 2018: Press Briefing Drought In Summer 2018
An ABC News analysis Found that Press Secretary Sarah Sanders only answered reporter's questions in the press briefing room 13 times during all of June, July and August, totally a combined 3 hours and 58 minutes in running time. ABC also reports that Sanders held fewer briefings and spent less time fielding questions in the briefing room than during the summer of 2017 and during the summers time period in the last two presidencies.
ABC>
July 18, 2018: Stelter:  Daily White House Press Briefings Are "A Thing Of The Past"
A year after Sean Spicer's departure from the White House and press briefing lectern, White House press briefings still remain few and far between with Sarah Huckabee Sanders at the helm. The White House held only three briefings in July 2018, with a combined running time of only 56 minutes. CNN's Brian Stelter reports that President Trump had held several news conferences during a busy travel schedule that may have contributed to the formal press briefing drought, but still notes that "the briefing is becoming so brief that it's almost nonexistent."
July 10, 2017: The New Norm of the Off Camera White House Press Briefing

Recently the off-camera White House press briefing has become a more frequent occurrence because as Sean Spicer has stated, "the president's voice should be the one that speaks and iterates his priorities." Reporters covering the President are distressed about this lack of access to information. ThinkProgress points out, "briefings, when they happen, often last for only 15 minutes or so. In the administration's earliest days, Spicer would often take questions for an hour or longer." This is not the norm: "In 2009, during President Barack Obama's first year in office, the briefings averaged 44 minutes and longer on average each consecutive year. During the Bush administration, the briefings clocked in around 30 minutes (though they averaged just 20 minutes during 2008)."
ThinkProgress>
June 13, 2017: At the White House Press Briefing No Comments Fly

May 18, 2017: Spicer Daily Press Briefings to End, Officials Say
As reported by Politico, "President Donald Trump is considering scaling back White House press secretary Sean Spicer's public role, according to several officials familiar with the president's thinking, as Trump also weighs a broader shakeup of his communications shop in the wake of several scandals."
Several anonymous officials indicated to Politico that Spicer will no longer be expected to do a daily, on-camera briefing after Trump's first foreign trip. One senior White House official told Politico that deputy press secretary Sarah Huckabee Sanders may govern future briefings, and Spicer will retain a behind the scenes role in the administration. Politico also reported that another official predicated a general decrease in on-camera briefings.
Politico>
May 16, 2017: Newt Gingrich calls for end to White House press briefings
Former GOP House Speaker Newt Gingrich told Politico that President Trump should "close down the White House press briefing room" and doing so would send a message to the country "that the media is a corrupt institution and he is tired of being harassed by people whose only interest is making him look bad."
"I am personally offended by the American news media. I think it is destructive and disgusting. It is a danger to the country right now," Gingrich said, adding that the press should be banished to a nearby Starbucks and that Spicer should take questions from the American people. "Just say to the American people, you get to choose," Gingrich said.
Politico>
May 16, 2017: Sean Hannity Urges Trump to Restructure Press Briefings, Use Social Media to Speak Directly to the Public
Fox News host Sean Hannity called for a restructuring of the White House press briefings. Hannity suggested, "First, the White House press team should regularly develop a list of the top and most important 15, 20, 25 issues of the day. Next, the media, well, they should be able to submit questions about these issues in writing, give the White House time to respond with clarity and specificity, and if Sean Spicer then wants to take a couple of questions from the briefing room podium, that's fine. But only on those specific topics."
Hannity also said the president could speak to the public without using the press. "The president is in a position, a unique position, to communicate daily and directly with the country without using the press as his messenger," Hannity said, adding "What about taking questions from you, the American people, on Facebook?"
The Hill>
May 12, 2017: Trump Threatens to Cancel White House Press Briefings
In the wake of the firing of FBI Director James Comey, a series of tweets by President Trump indicated a possible shakeup of the daily White House press briefing. The president tweeted, "As a very active President with lots of things happening, it is not possible for my surrogates to stand at podium with perfect accuracy!" and "Maybe the best thing to do would be to cancel all future 'press briefings' and hand out written responses for the sake of accuracy???"
Press Secretary Sean Spicer refused to answer reporter's questions about Trump's tweets, but did say the president was frustrated by the press's "attempt to parse every word and make it a game of gotcha."
In an interview with Fox News' Jeanine Pirro, Trump further suggested the end of daily briefings by his staff. Pirro asked, "Are you moving so quickly that your communications department can't keep up with you?" to which Trump said, "Yes that's true." When Pirro asked "So what do we do about that?" Trump answered, "We don't have press conferences. We just don't have them. Unless I have them every two weeks and do it myself. We don't have them. I think it's a good idea. First of all you have a level of hostility that's incredible and it's very unfair." Trump also said he would make his decision on cancelling daily press briefings "over the next couple weeks."
CNN>
May 2017 : White House Correspondent's Association Responds to Trump
WHCA STATEMENT ON PRESS BRIEFINGS 5/12/17

White House briefings and press conferences provide substantive … https://t.co/jWonyguOPE

— WHCA (@whca) May 12, 2017
And on May 14, WHCA President Jeff Mason appeared on Fox News and further reiterated the importance of the daily briefings and that the WHCA would object to suspending the briefings, though he acknowledged that it was difficult to determine if the administration was seriously considering doing so.
The Hill>
Analysis & Opinion
September 18, 2018: Correspondents'Association Urges White House For More Briefings
Erik Wemple, Media Critic for The Washington Post, writes on the declining press briefings and the White House Correspondents Association's effort to increase their frequency and length. Wemple outlines the argument of many who say that the briefings are futile, but responds that the briefings are a one stop place for reporters to get on the record responses.
May 12, 2017: Are White House Press Briefings Still Worthwhile?
The Washington Post discusses the Trump administration's recent handling of the press in the wake of the Comey firing and the often-conflicting statements from staff members. Martha Joynt Kumar, a presidential historian, told the Post, "Presidents often think they have a press problem, when in fact what they have is political problems. They are confusing the two. The president is shifting what he has said so many times about why Comey was fired. . . . It's not a press problem. It's his own political problems and his shifting views."
The Washington Post also reported, "Former White House aides who have served past presidents of both major parties said the daily briefings are watched closely by lawmakers and foreign governments for signals about where the administration stands on the issues of the day and about the president's state of mind. If the president himself does not expect his surrogates to be able to accurately reflect that, the former aides asked, how can anyone outside the West Wing?"
Washington Post>
History & Legal Cases
History of the "Daily Joust" Between Presidential Administrations and the Press

The BBC reports on what White House Press Briefings look like today, their origin and the troubled relationship between the president and the press. President William McKinley was the first president to allow press briefings. Theodore Roosevelt (who became president after McKinley's assassination) created the first designated office for White House correspondents, but the first president to appoint a press secretary was Herbert Hoover, in 1929. In 1961, President John F. Kennedy delivered the first televised press conferences, a practice that is now the feature of almost all presidential news conferences. And the official White House Press Briefing Room got going in the late 1960s according to the White House Historical Association.
For more information, the American Presidency Project, maintained by the University of California Berkeley, keeps records of all presidential news conferences, going back to 1929. It also tracks press briefings at the Office of the Press Secretary (including by the Press Secretary and the President,) going back to President Clinton in 1993, and it catalogs the President's weekly address going back to President Reagan in 1982. In December 2016, NPR analyzed the data and found that, on average over the past three administrations (Obama, Bush, and Clinton) the president has taken questions from reporters about every 15 days. The NPR article also states, "According to CBS News White House correspondent Mark Knoller, who meticulously tracks the activities of the president, the longest drought between press conferences for President George W. Bush was 82 days, while the longest President Obama went without a press conference was 86."
___
Obama Embraced Social Media, Setting the Stage for Trump

But it is really the advent and acceptance of social media that has changed the presidency? Obama tweeted more than 30,000 times. The Atlantic article asks "what if Obama was too good at social media?" Ryan Lizza writes in the New Yorker that Obama's eight years "have been marked by an escalating cat-and-mouse game between a communications staff that has constantly sought new ways to directly communicate with the public and a corps of White House reporters who see the efforts as a manipulative attempt to limit their access." Although Obama claimed his administration would be the most transparent in history, many feel he did not live up to that promise. His administration's relationship to the press was fractured, and openly hostile, at times—whether aggressively prosecuting government officials under the Espionage Act or tamping down on leaks.
Media Matters dissects what happened in November 2013 when 38 news organizations sent a letter to Press Secretary Jay Carney expressing concern over the White House's restrictions on press photography and video. They wrote, "As surely as if they were placing a hand over a journalist's camera lens, officials in this administration are blocking the public from having an independent view of important functions of the executive branch of government." The Obama White House said access was restricted only in "private" events and meetings. But the protest picked up steam and several news organizations boycotted the use of pre-packaged White House images. And this was not the only time the Obama White House antagonized the press. In 2009, continues Media Matters, a feud between Fox News and the Obama administration over coverage of TARP led the White House to labeled the conservative channel "not a news network."
Under President Trump, the social media explosion continues. A Harvard Business Review article says that much can be learned from the "tweeter-in-chief about trying to win over large segments of consumers through social media" – and it does not include using White House press briefings.
The Atlantic>
New Yorker>
Media Matters>
HBR>
Save
Save
Save
Save
Save
Save
Save
Save
Save
Save