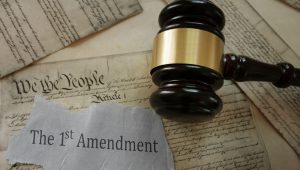 Americans are Becoming More Aware of Their First Amendment Rights
Americans are becoming increasingly aware of their rights under the First Amendment, according to the 2019 State of the First Amendment survey released by the Freedom Forum Institute. The survey found that 71 percent of respondents were able to name at least one First Amendment right, compared to just 51 percent of respondents in the 2018 survey.
Freedom of speech (64 percent) was the most commonly recalled right guaranteed by the First Amendment. Next was freedom of religion (29 percent), freedom of the press (22 percent) and right of assembly (12 percent). At just four percent, the right to petition was the least likely of the five freedoms to be recalled.
Copy and paste this URL into your WordPress site to embed
Copy and paste this code into your site to embed