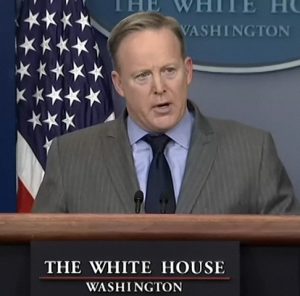 On the campaign trail, Donald Trump often called out news organizations for what he said was irresponsible reporting and excluded some of their reporters from his rallies. After assuming office, the President and his staff have continued to limit the access of some news organizations, leading to a larger issue under the First Amendment. The latest? Another kind of limitation—barring audio and video from the regular White House press briefing, leading many reporters to question the briefing's efficacy. The larger question remains: Can reporters be barred from news conferences because the Trump administration objects to the coverage he receives? For news, analysis, history & legal background read on.
---
News & Updates
May 16, 2017: Trump Team Battles Press
During an embattled week of scandal after scandal, Republican operatives —from former House Speaker Newt Gingrich to television host Sean Hannity—have decried the media's treatment of the president, and speculation has ensued about the future of the White House press briefings. Indeed, many have urged the Trump administration to restructure or suspend the briefings entirely. The New York Times reported that many Trump aides and high level supporters have been seeking to "shift focus onto questions about the use of confidential sources and the credibility of the news media, and away from concerns about Mr. Trump's behavior."
New York Times >
February 24, 2017: White House Excludes Reporters from Press Briefing
White House Press Secretary Sean Spicer refused to permit reporters from news organizations—The New York Times, the BBC, CNN, Buzzfeed News, The Los Angeles Times, and The Huffington Post—to take part in a White House briefing. The New York Times called it "a highly unusual breach of relations between the White House and its press corps."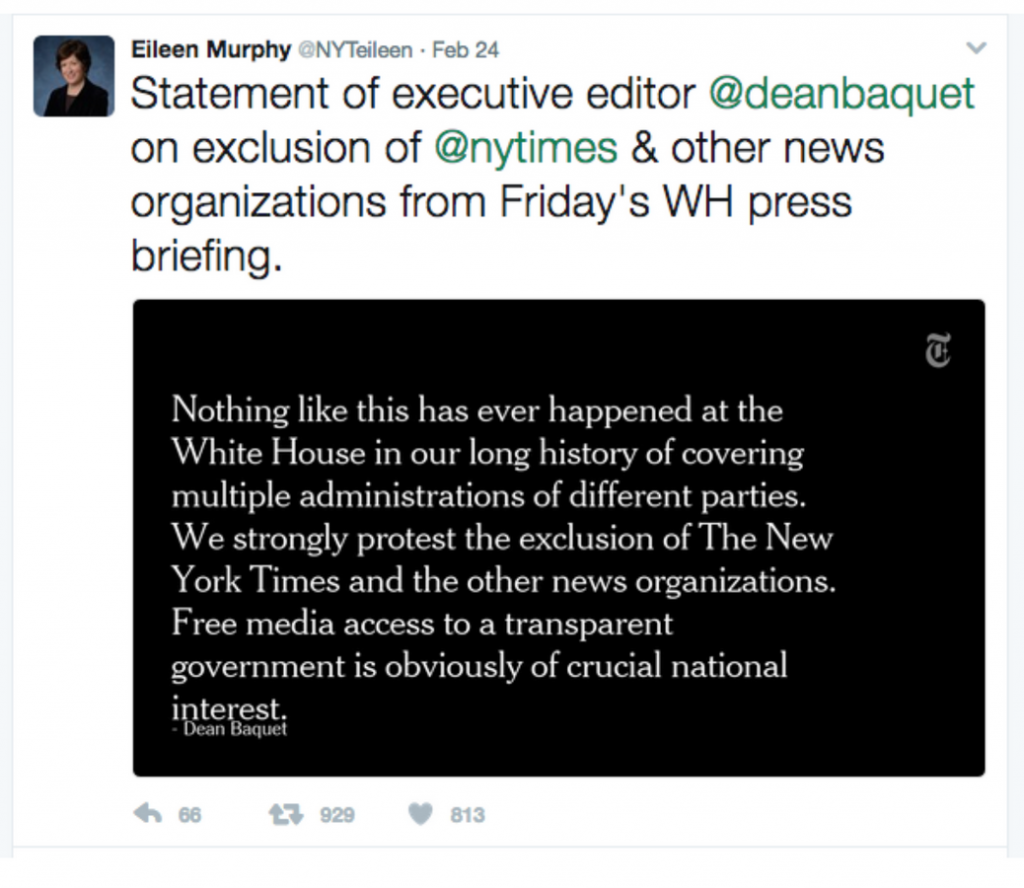 November 17, 2016: Buzzfeed Reporter Prohibited from Trump Event
Trump campaign officials denied a reporter from Buzzfeed access to an event in Newton, IA. He was also not allowed to enter as a member of the general public.
Huffington Post >
July 27, 2016: Washington Post Reporter Denied Access as Member of the Public
A Washington Post reporter was denied press credentials to enter a Trump event in Milwaukee. At the time, a six-week old ban on Washington Post reporters covering Trump rallies was in effect. The reporter entered the event with the general public, but when confronted by private security and local police, he was prohibited from attending.
Washington Post >
Huffington Post >
June 13, 2016: Daily Beast Reporters Denied Credentials
Daily Beast reporters were rejected in November 2015 from Trump events in response to an editor endorsing a boycott of Trump businesses. The exclusion continued into 2016.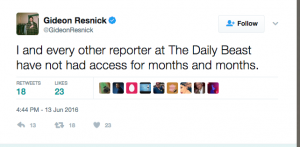 June 13, 2016: List of Publications Blacklisted by the Trump Campaign by mid-July 2016
Gawker >
June 12, 2016: Donald Trump Revokes Credentials of Washington Post
Republican Presidential candidate Donald Trump announced that was revoking the credentials of The Washington Post to cover his campaign. He said it was "based on the incredibly inaccurate coverage and reporting of the record setting Trump campaign…"
Politico >
June 2, 2016: Politico Reporter Ejected from Trump Campaign Event
A Trump campaign staffer and security guard order a reporter for Politico to leave an event in San Jose. This came two days after a news conference in which Trump referred to an ABC reporter as "sleaze."
Politico >
January 15, 2016: New York Times Reporter Removed from Trump Event
Trump staffers and a police officer ejected a New York Times reporter from a primary campaign event at a pizza restaurant in Waukee, Iowa.
Politico >

October 23, 2015: Trump Campaign Denies Access for Univision
After Trump sues Univision for backing out of covering the Miss Universe contest, Trump denies access to its reporters at campaign events.
CNN >
CNN >
July 24, 2015: Des Moines Register Denied Press Credentials to Cover Trump
Corey Lewandowski, the national campaign manager, told a Register reporter that she would not be granted access for an upcoming event in Iowa. He said the decision was "based on the editorial that they wrote earlier in the week," which urged Trump to exit the primary campaign.
The Des Moines Register >
Analysis & Opinion
February 28, 2017: Legal Problems in Barring Journalists
Adam Liptak of The New York Times presents comments by legal scholars on the exclusion of reporters from official public events. Liptak: "First Amendment experts said the allocation of government resources like press passes and access to public forums like news conferences must be based on neutral criteria rather than discrimination based on what the journalists had written."
New York Times >
June 14, 2016: In Revoking Press Credentials, Trump Casts Himself as Punisher in Chief
Jim Rutenberg of The New York Times discusses Trump's exclusion of reporters from publications he does not like. Rutenberg: "The all-but-confirmed standard-bearer of one of the United States's two major political parties is actively stripping credentials from news organizations that report things that he deems unfair or inaccurate. He has a black list and, unlike the one that Nixon kept, this is not a secret. Quite the opposite."
New York Times >
History & Legal Cases
These cases involve access for journalists to official actions of public officials, not to campaign events such as held by a public figure such as Donald Trump before he became President.
Nicholas v. City of New York, United States District Court for the Southern District of New York, February 27, 2017
Paul Oetken, District Judge
Jason Nicholas, a photojournalist, argued that his First Amendment rights were denied by the New York Police Department, which he said revoked his press credentials because it disagreed with the content of his work.
In a preliminary ruling, Judge Oetken wrote: "It has been held impermissible to exclude a single television news network from live coverage of mayoral candidates' headquarters and to withhold White House press passes in a content-based or arbitrary fashion. . . Equal press access is critical because '[e]xclusion of an individual reporter . . . carries with it "the danger that granting favorable treatment to certain members of the media allows the government to influence the type of substantive media coverage that public events will receive," which effectively harms the public.'" Courts thus recognize that equal access of the press is necessary in order to prevent government officials from 'affect[ing] the content or tenor of the news by choreographing which news organizations have access to relevant information.'"
CaseText >
___
Sherrill v. Knight, 569 F.2d 124, United States Court of Appeals for the District of Columbia, 1977
A reporter denied a press pass for the White House challenged the denial as a violation of the First and Fifth Amendments. Judge McGowan wrote: "White House press facilities having been made publicly available as a source of information for newsmen, the protection afforded news gathering under the First Amendment guarantee of freedom of the press, requires that this access not be denied arbitrarily or for less than compelling reasons," Judge Carl E. McGowan wrote for a unanimous three-judge panel. "Not only newsmen and the publications for which they write, but also the public at large have an interest protected by the First Amendment in assuring that restrictions on news gathering be no more arduous than necessary, and that individual newsmen not be arbitrarily excluded from sources of information."
Open Jurist >
___
Borreca v. Fasi, 369 F. Supp. 906, United States District Court for Hawaii, 1974
Richard Borreca, a reporter for the Honolulu Star-Bulletin, was denied access to news conferences held by Mayor Frank Fasi of Honolulu in his office. The mayor, according to the court, "concluded that Borreca was irresponsible, inaccurate, biased, and malicious in reporting on the mayor and the city administration." The court issued a preliminary injunction to prevent the reporter's exclusion.
Judge King wrote: "A free press is not necessarily an angelic press. Newspapers take sides, especially in political contests. Newspaper reporters are not always accurate and objective. They are subject to criticism, and the right of a governmental official to criticize is within First Amendment guarantees. But when criticism transforms into an attempt to use the powers of governmental office to intimidate or to discipline the press or one of its members because of what appears in print, a compelling governmental interest that cannot be served by less restrictive means must be shown for such use to meet Constitutional standards. No compelling governmental interest has been shown or even claimed here."
UMKC >
Save
Save
Save
Save
Save
Save
Save
Save
Save
Save
Save
Save
Save
Save
Save
Save
Save
Save
Save
Save
Save
Save
Save
Save
Save
Save
Save
Save
Save
Save
Save
Save
Save
Save
Save